Spelman and NICHD to "Power UP!" in February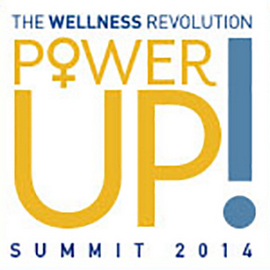 The NICHD has joined with Spelman College in support of the Wellness Revolution Summit 2014: Power UP! at the college on Thursday, February 6.
NICHD Director Alan E. Guttmacher, M.D., and Deputy Director Yvonne T. Maddox, Ph.D., will serve as panelists in the summit's opening session. The summit will also feature leaders in health and wellness from organizations such as the President's Council on Fitness, the Centers for Disease Control and Prevention, and Morehouse School of Medicine.
The summit's goal is to improve the health and wellness of the community at Spelman—a historically black women's college in Atlanta, Georgia. African Americans, particularly African American women, have disproportionately high rates of obesity, cardiovascular disease, diabetes, and other health conditions. Spelman recently disbanded its athletics program in favor of a wellness program open to everyone on campus.
The NICHD and Spelman recently agreed to partner on research and health-related activities that promote the health of young women and their families and that prevent disease and disability. Health-related activities include nutrition and fitness education, physical activity promotion, and other wellness services. The intention is for the collaborative effort to have a ripple effect beyond Spelman to the communities Spelman students are a part of and will influence.
The NICHD and Spelman will also connect students to health researchers through internships and other educational opportunities to foster interest in scientific careers. The agreement also calls for the NICHD and Spelman to educate potential national partners about the Wellness Revolution as a program to model for college women on other campuses.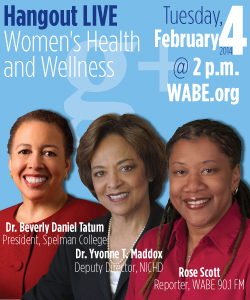 On Tuesday, February 4 at 2 p.m. EST, Dr. Maddox will join Spelman College President Beverly Daniel Tatum, Ph.D., for a live radio interview on WABE 90.1 FM, the Atlanta National Public Radio affiliate.
The 30-minute interview will focus on women's health and wellness. This conversation will be video streamed on https://www.wabe.org/

, and viewers can take part in the conversation via Twitter using the hashtag #WABElive

.
During the interview, Dr. Tatum will describe the efforts to change the health trajectory of Spelman students through the Wellness Revolution. Dr. Maddox will explain the NICHD effort to partner with communities to help change the health trajectory of women.
"The National Institutes of Health seeks to improve the public's health and wellness through research on nutrition and physical activity and by communicating health information," Dr. Maddox said. "Our partnership with Spelman is an important part of that process, and we look forward to working with its officials and students to improve the lives of young women, their families, and members of their communities."
More Information
For more information, select a link below:
The Wellness Revolution Summit 2014: Power UP! (February 6)

Registration is required; tickets are complimentary.

WABE 90.1 FM radio interview (February 4; 2 to 2:30 p.m. EST)
NICHD Resources

NICHD A to Z Topics:
NICHD News Releases and Spotlights

NIH Resources
Originally Posted: February 3, 2014