How many women are affected by uterine fibroids?
One study found that between 80% and 90% of African American women and 70% of white women will develop fibroids by age 50.1
Some may have no symptoms. However, hundreds of thousands of women seek treatment for fibroids each year.
Research shows that over 90% of women who are newly diagnosed with fibroids will seek medical or surgical treatment for the condition within a year of the diagnosis.2,3 In 2000, more than 250,000 hospital admissions were related to uterine fibroids. Every year, fibroids lead to more than 200,000 hysterectomies.4 Women  who wish to have children have the option of myomectomy, a surgical procedure that removes the fibroids while leaving the uterus intact.
Which women are at risk of uterine fibroids?
Fibroids usually grow in women of childbearing age. Among U.S. women ages 25 to 44, about 30% have symptoms of fibroids.2 Affected African American women are more likely to have multiple fibroids.5 We don't know exactly how many new cases of fibroids occur in a year, as fibroids may not cause any symptoms, but clearly millions of American women have fibroids at any one time.
There have been reports of rare cases in which young girls, who have not yet started their periods (pre­pubertal), had small fibroids. For African American women, fibroids typically develop at a younger age, grow larger, and cause more severe symptoms.4
Fibroids may shrink after menopause. However, research shows that they are more likely to shrink in postmenopausal white women than in premenopausal black women.
Several factors affect a woman's risk for having uterine fibroids.2
Factors that increase the risk of fibroids:
Age older than 40 years
African American race
Obesity
Family history of uterine fibroids
High blood pressure
No history of pregnancy
Low levels of vitamin D
Factors that lower the risk of fibroids:
Pregnancy (the risk decreases with increasing number of pregnancies)
Long-term use of progestin-only birth control pills or oral contraceptives
Use of the birth control shot (depot medroxyprogesterone acetate [DMPA], or Depo-Provera®)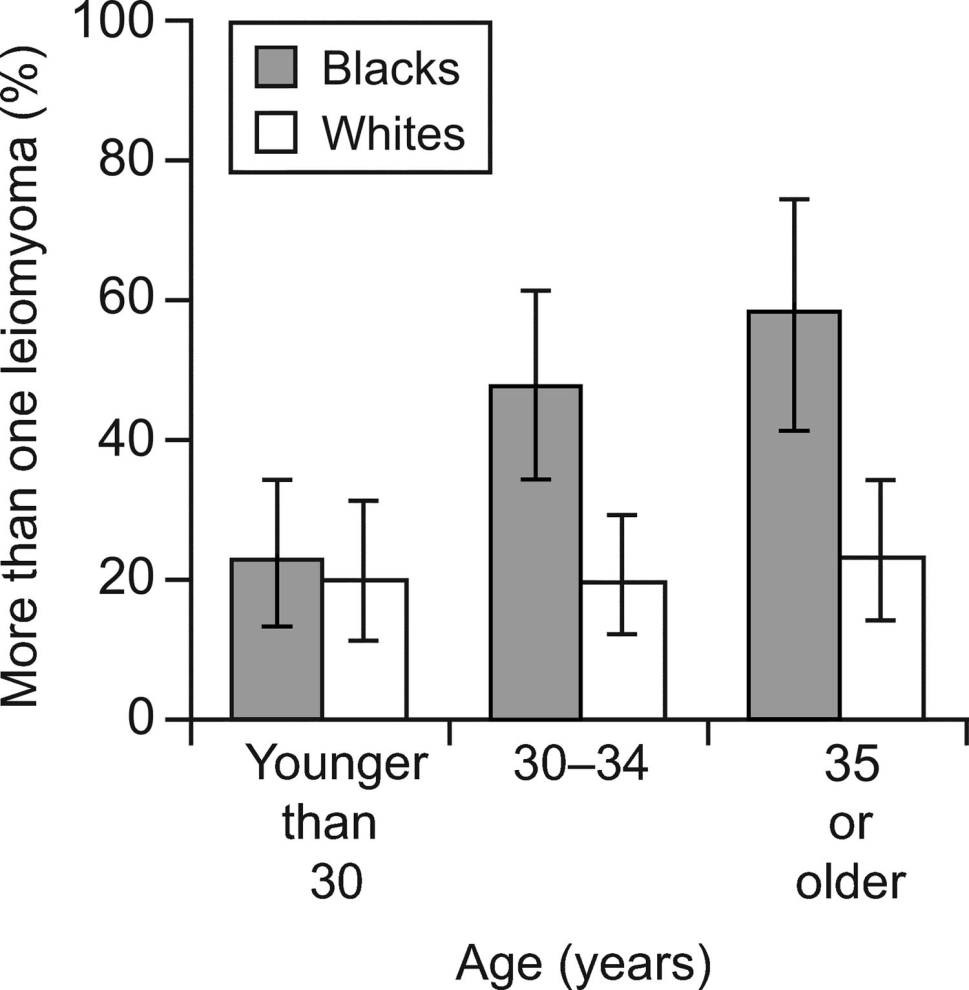 Figure 1. Graph showing black and white women's chances of having more than one fibroid (leiomyoma), by age. Black women's risk of fibroids is about three times that of white women. The disparity increases with age. For example, in women younger than age 30, the risk of having more than one uterine fibroid is slightly higher than 20% for blacks and slightly less than 20% for whites. Black women's risk of having more than one uterine fibroid continues to increase with age, while white women's risk remains around 20%.
---
---