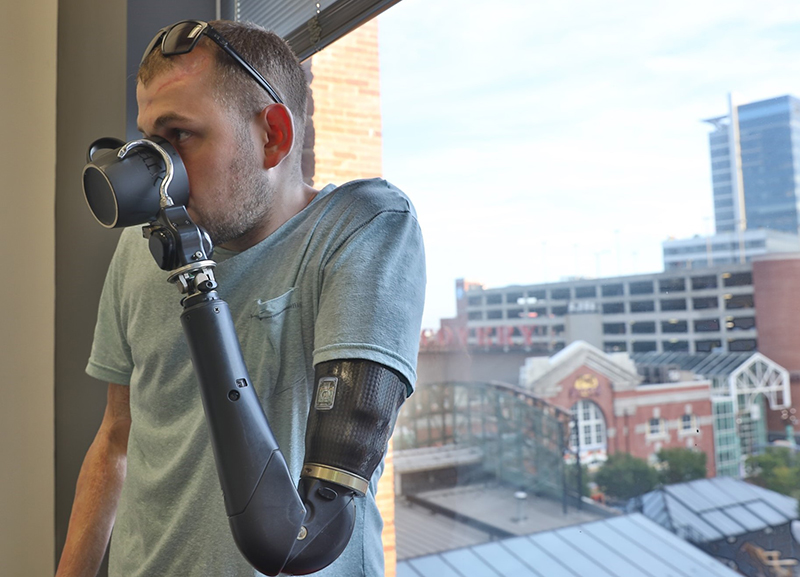 Gyorgy Levay
Credit: Infinite Biomedical Technologies
As a college student studying engineering in his home country of Hungary, Gyorgy Levay (shown here drinking from a cup using his left arm prosthetic) lost both his hands and feet after a meningitis infection. During his recovery and rehabilitation with his first prosthesis, he shifted his education focus to biomedical engineering, hoping to test the technology and improve the experience for users.
Levay went on to receive a Fulbright scholarship to study at Johns Hopkins University and he now works for NICHD grantee Rahul Kaliki, Ph.D.
, Chief Executive Officer of the Baltimore-based startup company Infinite Biomedical Technologies. The firm develops gesture-based control signaling systems for amputees with upper limb prosthetics.
The progress made by Dr. Kaliki and his company, including Mr. Levay, as well as numerous others across the country, are among the remarkable medical advances supported by our National Center for Medical Rehabilitation Research (NCMRR), which this year marks its 30th anniversary. These achievements have enhanced the health, productivity, independence, and quality of life of people with physical disabilities - a key theme of our recent strategic plan.
One in 4 U.S. adults—61 million people—have a disability that affects major life activities, according to the Centers for Disease Control and Prevention (CDC). In 2016, NICHD released the NIH Research Plan on Rehabilitation, which now is being revamped and updated to serve as the framework for future rehabilitation research over the next five years. Last month, the annual trans-NIH virtual rehabilitation research conference brought together over 1,200 rehabilitation research stakeholders who helped map a plan for continued progress. Attendees participated in a Q&A with keynote speaker Jenny Lay-Flurrie, M.B.A., chief accessibility officer at Microsoft
. She spoke about a "data desert" in disability research and the need to include people with disabilities in research. To view the conference
, select "Register Now for On Demand" and provide your email address.
Deputy Director Alison Cernich, Ph.D. moderated the opening session with one of NCMRR's longtime supporters, Washington D.C. lawyer and disability advocate Peter Thomas, J.D., who served on NCMRR's first advisory board in 1992, and current NCMRR advisory board Chair Edelle Field-Fote, Ph.D., PT, a spinal cord injury researcher at the Shepherd Center in Atlanta. Also, on the opening panel was newly appointed NCMRR Director Theresa Cruz, Ph.D., who offered her vision on the future of the Center.
The conference offered stakeholders an opportunity to offer input. We welcome your feedback
. The success of a research plan depends on community engagement. The ultimate goal remains helping people with disabilities reach their full potential.
Training and Infrastructure
NCMRR has seen a growth spurt in the past 20 years, establishing training programs for young investigators and creating a national infrastructure network to coordinate efforts in key fields of rehabilitation research. Assistive technology also has boomed in the past decade with the development of "wearable robots." These exoskeleton suits are designed to help people who are paralyzed below the waist stand up and walk. The Food and Drug Administration has approved the use of several of these assistive devices, which were created with NICHD funding. An emerging field of study is increased bowel and bladder control, a key improvement for those recovering from spinal cord injury. NICHD grantee Charles H. Hubscher, Ph.D., and colleagues at the University of Louisville School of Medicine are researching technologies that improve this function.
Pregnancy and Disabilities
Pregnant women with disabilities now are included in the Pregnancy Risk Assessment Monitoring System (PRAMS), a national survey of U.S. births., thanks to our collaboration with the CDC. In addition, NCMRR supports research examining accessibility to medical care for pregnant women with disabilities. Grantee Lisa I. Iezzoni, M.D., MSc, professor of medicine at Harvard Medical School and director of the Mongan Institute for Health Policy at Massachusetts General Hospital studies health disparities among people with disabilities.
Children and Disabilities
NCMRR has made tremendous advances in the field of rehabilitation for children with disabilities. A recent study showed that brain stimulation treatment may help children with cerebral palsy recover limb function. Cerebral palsy is a group of neurological disorders appearing in infancy or early childhood that permanently affects movement and muscle coordination. In the study, researchers led by NICHD grantee Bernadette Gillick, Ph.D., of the University of Minnesota/Gillette Children's Specialty applied an electrical current to the part of the brain unaffected by the condition. This stimulation resulted in a small but significant increase in hand function for those retaining neural connections between the injured and non-injured sides of the brain.
Future Research: Impact of COVID-19 on People with Disabilities
While the current pandemic affects us all, its impact on people with disabilities is largely unknown. We know some outpatient rehabilitation services closed during the pandemic, but we need focused research on access to medical care, increased risk and vulnerability, and long-term outcomes.