SBSB trainees contribute to all aspects of our research. Our fellows, many of them Intramural Research Training Award (IRTA) recipients, have experience and interests across a range of social and behavioral science areas, from health disparities to eating and diet-related outcomes to mental health and suicide.
Diana Augustin is a postbaccalaureate IRTA fellow and National Academy Enrichment Program scholar working in Dr. Stephen Gilman's research lab. Currently, their research focuses on the associations between maternal inflammation and birth outcomes in relation to racial, ethnic, and socioeconomic disparities. More broadly, their interests are in mental health disparities, human development, and social cognition. They graduated from Carleton College in 2021 with a degree in Africana studies and a minor in cognitive science. Outside of the lab, their interests include Africana epistemologies, anti-colonial science, and ecological approaches to cognition.
Jenna R. Cummings, Ph.D., is a postdoctoral fellow working on the Pregnancy Eating Attributes Study. Her research focuses on identifying biopsychosocial causes and effects of unhealthy eating behavior, particularly early in the lifespan. She completed her doctoral degree in health psychology in 2018 at the University of California, Los Angeles. She also completed postdoctoral work in 2020 at the University of Michigan, where she conducted research on social-cognitive mechanisms underlying unhealthy eating behavior.
Theemeshni Govender is a postbaccalaureate IRTA fellow with research interests in adolescent psychosocial development and well-being, mental health disparities, and social determinants of mental health and how they are transmitted generationally. Her goal is to use research to inform effective practice with marginalized communities and community/public policy changes. She graduated from the University of Oregon in 2020 with a bachelor's degree in psychology and a minor in sociology.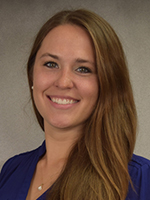 Julia M. Porth, Ph.D., M.P.H., is a postdoctoral fellow working with Dr. Bobby Cheon. Her research investigates the ways in which objective and subjective social disadvantages impact health behaviors (e.g., eating practices) and produce inequitable health outcomes in women and children. She also focuses on identifying interventions to diminish the influence of these disadvantages and promote positive health practices. She studied epidemiologic science at the University of Michigan School of Public Health, earning an M.P.H. in 2017 and a Ph.D. in 2021.
Meegan Smith is a postbaccalaureate IRTA fellow working with Dr. Bobby Cheon to examine the effect of social inequity on eating behavior-related health outcomes. Her research focuses on the social determinants of mental health, particularly adverse childhood experiences and social inequity, and their effect on antisocial behavior and psychopathy throughout the life course. Her goals are to understand why individuals who exhibit antisocial behavior and psychopathy commit incarcerable acts and to establish equitable treatment programs to aid those affected by the criminal and juvenile justice systems in escaping cycles of poverty, abuse, and shame. She graduated from the University of Michigan in 2021 with a major in psychology and a minor in law, justice, and social change.
Pablo Vidal-Ribas Belil, Ph.D., is a postdoctoral visiting fellow working with Dr. Stephen Gilman to identify developmental predictors of suicide mortality using data from the Collaborative Perinatal Project. His research focuses on using behavioral, epidemiological, and neuroimaging approaches to identify risk and protective factors of mood disorders, including depression, anxiety, irritability, and suicidality, in young people. He earned master's degrees in child and adolescent and in adult psychopathology while training as a clinical psychologist in Barcelona, Spain. He completed his Ph.D. in child and adolescent psychiatry at the Institute of Psychiatry, Psychology, and Neuroscience at King's College London (KCL) in the United Kingdom. In 2012, he joined Dr. Argyris Stringaris' research group at the Mood and Development Lab at KCL. In 2016, he came to the United States to continue his work with Dr. Stringaris at the National Institute of Mental Health's Mood Brain and Development Unit.