SBSB trainees contribute to all aspects of our research. Our fellows, many of them Intramural Research Training Award (IRTA) recipients, have experience and interests across a range of social and behavioral science areas, from health disparities to eating and diet-related outcomes to mental health and suicide.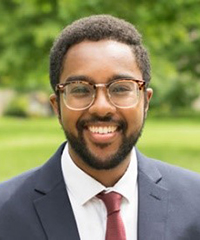 Mahad Gudal is a postbaccalaureate undergraduate scholarship program fellow with research interests in health disparities, child health, the social determinants of health, and the developmental origins of health and disease. His previous work includes noise policy research at the Centers for Disease Control and Prevention's National Center for Environmental Health; neuroepigenetics research at the University of Massachusetts, Boston; paper science research at Procter & Gamble; and uterine fibroid research at Tufts University School of Medicine. He graduated from the University of Massachusetts, Amherst, with a bachelor's degree in public health sciences in 2019. He plans to become a physician-scientist, addressing the health needs of patients while conducting public health research to reduce significant health inequities.
Reeya Patel is a postbaccalaureate IRTA fellow working with Dr. Stephen Gilman on factors related to mental health, especially suicide-related research, longitudinal development of psychological well-being, and the role of sociodemographic factors in health status. Her interests focus on population health research and utilizing an interdisciplinary framework to understand disparities in health behaviors, treatment of disorders, and healthcare access. She graduated from the University of Michigan in 2018 with a bachelor's degree in psychology and a minor in applied statistics, and in 2019 with a master's degree in psychology, specializing in clinical science.
Carolina Schwedhelm, Dr.P.H., is a postdoctoral fellow working on the Pregnancy Eating Attributes Study and NEXT Generation Health Study. Her research focus is understanding how food consumed at meals affects health outcomes, and how healthy diets arise from food intake at meals. She completed her doctoral degree at the Technical University of Berlin. She also spent time at the German Institute of Human Nutrition Potsdam-Rehbruecke, where she conducted nutritional epidemiology research on different daily meals (i.e., breakfast, lunch, dinner), meal patterns, and predictors of eating behaviors at the meal, daily, and individual levels.
Chelsie Temmen, Ph.D., is a postdoctoral fellow working on the NEXT Generation Health Study. Her research aims to expand understanding of how social and contextual factors influence adolescent well-being, and she uses her expertise in advanced statistical analyses to examine these relationships. Her work emphasizes the importance of parents, with special attention to father involvement, in the development of internalizing and externalizing problems in youths. She completed her doctoral degree in psychology at the University of Nebraska-Lincoln in 2018.
Pablo Vidal-Ribas Belil, Ph.D., is a postdoctoral visiting fellow working with Dr. Stephen Gilman to identify developmental predictors of suicide mortality using data from the Collaborative Perinatal Project. His research focuses on using behavioral, epidemiological, and neuroimaging approaches to identify risk and protective factors of mood disorders, including depression, anxiety, irritability, and suicidality, in young people. He earned master's degrees in child and adolescent and in adult psychopathology while training as a clinical psychologist in Barcelona, Spain. He completed his Ph.D. in child and adolescent psychiatry at the Institute of Psychiatry, Psychology, and Neuroscience at King's College London (KCL) in the United Kingdom. In 2012, he joined Dr. Argyris Stringaris' research group at the Mood and Development Lab at KCL. In 2016, he came to the United States to continue his work with Dr. Stringaris at the National Institute of Mental Health's Mood Brain and Development Unit.
Jing Yu, Ph.D., is a developmental psychologist and postdoctoral fellow studying how biological (e.g., temperament), familial (e.g., parenting), and sociocultural (e.g., poverty, acculturation) factors work together to affect child and adolescent development. Her recent work suggests a link between racial and socioeconomic status and biomarkers of women's immune regulation during pregnancy, which, in turn, appears to affect their children's self-regulation ability in early childhood. In addition, she is investigating mental health and suicidality in the transition period from adolescence to young adulthood and aims to identify resilience factors in adolescents with moderate to high depressive symptoms. Dr. Yu also is examining developmental origins of disparities in premature mortality during childhood and middle adulthood. She is involved in designing a new study on early life origins of health and developmental disparities. She earned her doctorate in applied developmental psychology from the University of Maryland, Baltimore County, in 2016.