Dietary guidelines for youth with type 1 diabetes are similar to those for the general population, and nutrition education for families of youth with type 1 diabetes includes recommendations for general healthful eating and efforts to achieve and maintain optimal weight for height. Current treatment standards emphasize physiologic insulin replacement; therefore, a primary component of medical nutrition therapy in type 1 diabetes is carbohydrate estimation, as carbohydrates are the principal macronutrient affecting glycemic excursions. A major focus is on integrating the insulin regimen and carbohydrate estimation into the family's lifestyle, conforming to preferred meal routines, food choices, and physical activity patterns. Youth with type 1 diabetes consume diets low in fruits, vegetables, and whole grains, and high in saturated fat. Poor diet quality in these patients is particularly concerning due to the increased risk of dyslipidemia and cardiovascular disease and the high prevalence of cardiovascular risk factors. Thus, improving diet quality in this population has the potential to improve short- and long-term health outcomes. This program of research examines determinants of dietary intake among youth with type 1 diabetes and tests the efficacy of strategies to improve diet quality in this population.
Cultivating Healthful Eating in Families of Children with Type 1 Diabetes (CHEF)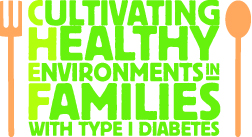 This study tested the efficacy a family-based behavioral intervention designed to improve diet quality by promoting intake of fruit, vegetables, whole grains, legumes, nuts, and seeds. A parallel-group study with equal randomization was conducted at an outpatient diabetes center. Eligible youth were 8 to 16 years old with a type 1 diabetes diagnosis at least1 year and glycated hemoglobin (HbA1c) levels between 6.5 and 10.0 percent. Participants were 136 parent-youth pairs. The intervention consisted of 9 clinic sessions delivered to the child and parent, whereas the control condition comprised equivalent assessments and number of contacts without dietary advice. The intervention approach was grounded in social cognitive theory, self-regulation, and self-determination theory, and integrated motivational interviewing, active learning, and applied problem-solving. Data collected included medical record abstraction, parent-youth interview, youth self-report surveys, parent self-report surveys, youth 3-day diet records, parent 3-day diet records, youth continuous glucose monitoring, youth body composition (DXA), and youth biomarkers including lipids, carotenoids, and markers of inflammation and oxidative stress. Primary outcomes were dietary intake and glycemic control. Findings demonstrated that the intervention improved youth adherence to dietary guidelines and intake of whole plant foods, with no adverse effect on glycemic control.
To request a copy of the intervention materials, email Tonja.Nansel@nih.gov.
Eating Behaviors among Youth with Type 1 Diabetes
This study enrolled 291 families (parent-youth dyads) in a cross-sectional study of psychosocial factors related to eating behaviors in families with youth with type 1 diabetes. Data were obtained using medical record abstraction, parent-youth interviews, youth self-report surveys, parent self-report surveys, youth 3-day diet records, and parent food frequency questionnaires. Findings document low intake of fruit vegetables, and whole grains, and poor overall diet quality among youth with type 1 diabetes and indicate potentially modifiable child and family determinants of dietary intake.
Perceptions of Healthful Eating among Families of Youth with Type 1 Diabetes
A series of focus groups, conducted separately with children, adolescents, and parents, examined perceptions of healthful eating among families of youth with type 1 diabetes. Findings indicate that these families experience developmental and environmental challenges surrounding healthful eating similar to those reported among families in the general population, along with additional obstacles specific to diabetes management are faced. For example, findings suggest that the emphasis placed on carbohydrate intake for disease management may adversely impact overall diet quality due to reliance on packaged foods and avoidance of fruit intake, and that flexible basal-bolus regimens may increase opportunities for unhealthful eating.
Blood Glucose Response to Meals of Varying Glycemic Index
In this study, youth with diabetes participated in 5 days of continuous blood-glucose monitoring during which they received both low and high glycemic index meals in a structured clinic setting and in the home environment. Food intake, insulin, and blood glucose self-monitoring were recorded. Participants demonstrated lower mean blood glucose and variability when consuming low glycemic index meals in both the in-clinic and the at-home conditions. During ad libidum intake at home, children also consumed more fiber and less fat when consuming low glycemic index meals.
Acceptability of Lower Glycemic Index Meals in the Diabetes Camp Setting
Youth ages 7 to 15 years who attended a diabetes summer camp received standard diabetes camp menus and lower glycemic index diabetes camp menus in a daily, alternating cross-over design. Measures of satisfaction with the camp meals and snacks were obtained from youth and staff, and observations of meal consumption were conducted. Additional data were collected via focus groups and self-report of food patterns and preferences. Findings indicated high acceptability of the lower glycemic meals.
Principal Investigator
DIPHR Collaborators
Investigators
Publications