Overview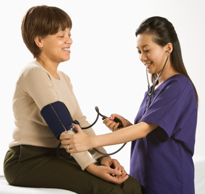 The WRHR Program began in 1998 to provide the opportunity for obstetrician/gynecologists (OB/GYNs) who recently completed postgraduate clinical training to further their education and experience in basic, translational, and clinical research. Program sites provide OB/GYN departments with an opportunity to create a pool of junior investigators with expertise in women's reproductive health research. The WRHR Program is funded through NICHD's Gynecologic Health and Disease Branch and co-sponsored by the NIH Office of Research on Women's Health using the NIH Mentored Research Scientist Development Program Award (K12) mechanism.
There are 15 WRHR sites in OB/GYN departments throughout the nation. The primary goal of these sites is to provide OB/GYN junior faculty with state-of-the-art training in women's reproductive health research in an academic setting, and to increase the research capacity of clinically trained OB/GYNs. WRHR scholars represent a diverse group of physician-scientists from several subspecialties and emerging areas in OB/GYN who pursue a broad range of basic science, translational, and/or clinical research topics.
Topic Areas
WRHR encompasses all areas of OB/GYN research. The focus is on scientific topics relevant to general OB/GYN and/or its subspecialties, including maternal and fetal medicine, gynecologic oncology, reproductive endocrinology and infertility, and female pelvic medicine and reconstructive surgery (urogynecology). Related fields, such as perimenopause and adolescent gynecology, are also of interest. Senior investigators from established research programs, which address a broad range of basic and applied biomedical and biobehavioral science, in OB/GYN and collaborating departments form an intellectual and technical research base for mentoring WRHR scholars.
Current Sites
2020-2025 WRHR Program Sites
Advancing Women's Health through Research: the University of North Carolina (UNC) WRHR Career Development Program
UNC Chapel Hill, Chapel Hill, North Carolina
Contacts:
Genevieve Neal-Perry, M.D., Ph.D. (Principal Investigator [PI]): genevieve_nealperry@med.unc.edu
Benjamin Chi, M.D. (Research Director): bchi@med.unc.edu
Vickie Bae Jump, M.D., Ph.D. (Recruiting Officer): victoria_baejump@unc.edu
Kim Boggess, M.D. (Recruiting Officer): kboggess@med.unc.edu

Baylor College of Medicine and Texas Children's WRHR Center of Excellence
Baylor College of Medicine, Houston, Texas
Contacts:
Michael A Belfort, M.D., Ph.D. (PI): belfort@bcm.edu
Kjersti Aagard, M.D., Ph.D. (Research Co-Director): aagaardt@bcm.edu
Chandrasekhar Yallampalli, D.V.M., Ph.D. (Research Co-Director): chandrasekhar.yallampalli@bcm.edu
Melissa Suter, Ph.D. (Recruiting Officer): masuter@bcm.edu

Colorado WRHR Career Development Center
University of Colorado Denver, Denver, Colorado
Contacts:
Nanette Santoro, M.D. (PI): nanette.santoro@cuanschutz.edu
Tunuguntla Kumar, Ph.D. (Research Co-Director): raj.kumar@cuanschutz.edu
Jeanelle Sheeder, Ph.D. (Research Co-Director): jeanelle.sheeder@cuanschutz.edu

Duke Women's Reproductive Health Research Scholars
Duke University, Durham, North Carolina
Contacts:
Matthew Barber, M.D. (PI): matthew.barber@duke.edu
Evan Myers, M.D. (Research Director): evan.myers@duke.edu

Johns Hopkins WRHR Career Development Program
Johns Hopkins University, Baltimore, Maryland
Contacts:
Andrew Satin, M.D. (PI): asatin2@jhmi.edu
James Segars, M.D. (Research Director): jsegars2@jhmi.edu
Victoria Handa, M.D., M.H.S. (Research Director): vhanda1@jhmi.edu

Oregon Health & Science University (OHSU) WRHR K12 Program
OHSU, Portland, Oregon
Contacts:
Aaron B. Caughey, M.D., Ph.D. (PI): caughey@ohsu.edu
Jeffrey Jensen, M.D., M.P.H. (Research Director): jensenje@ohsu.edu
Antonio Frias, M.D. (Recruiting Officer): friasa@ohsu.edu

The Penn Center for Career Development in Women's Health Research
University of Pennsylvania, Philadelphia, Pennsylvania
Contacts:
Elizabeth Howell, M.D., M.P.P. (PI): elizabeth.howell1@pennmedicine.upenn.edu
Christos Coutifaris, M.D., Ph.D. (Research Director/Recruiting Officer): christos.coutifaris@pennmedicine.upenn.edu

Stanford WRHR Career Development Program
Stanford University, Palo Alto, California
Contacts:
Leslee Subak, M.D. (PI): lsubak@stanford.edu
Virginia Winn, M.D., Ph.D. (Research Director): vwinn@stanford.edu
Paul Blumenthal, M.D., M.P.H. (Recruiting Officer): pblumen@stanford.edu

Transdisciplinary Harvard WRHR Career Development for Gynecologists and Obstetricians
Brigham and Women's Hospital, Boston, Massachusetts
Contacts:
Nawal Nour, M.D., M.P.H. (PI): nnour@partners.org
Raina Fichoroova, M.D., Ph.D. (Research Director): rfichorova@bwh.harvard.edu

University of California San Diego (UCSD) WRHR Program
UCSD, San Diego, California
Contacts:
Cynthia Gyamfi-Bannerman, M.D., M.S. (PI): cgyamfibannerman@health.ucsd.edu
Louise Laurent, M.D., Ph.D. (Research Director): llaurent@ucsd.edu
Pamela L. Mellon, Ph.D. (Recruiting Officer): pmellon@ucsd.edu

Utah's Women's Reproductive Health Research Career Development Program
University of Utah, Salt Lake City, Utah
Contacts:
Robert Silver, M.D. (PI): bob.silver@hsc.utah.edu
Michael Varner, M.D. (Research Director): michael.varner@hsc.utah.edu
David Turok, M.D. (Recruiting Officer): david.turok@hsc.utah.edu

WRHR Career Development Center in Obstetrics and Gynecology
Northwestern University, Chicago, Illinois
Contacts:
Serdar E. Bulun, M.D. (PI): s-bulun@northwestern.edu
Melissa Simon, M.D., M.P.H. (Research Director): m-simon2@northwestern.edu

WRHR Career Development Program
University of California San Francisco, San Francisco, California
Contacts:
Amy Murtha, M.D., Ph.D., M.Sc. (PI): amy.murtha@ucsf.edu
Vanessa Jacoby, M.D. (Research Co-Director): vanessa.jacoby@ucsf.edu
Synthia Mellon, Ph.D. (Research Co-Director): mellons@obgyn.ucsf.edu

Women's Reproductive Health Research at the University of Washington
University of Washington, Seattle, Washington
Contacts:
Barbara Goff, M.D. (PI): bgoff@uw.edu
Susan Reed, M.D., M.P.H. (Research Director): reeds@uw.edu

Yale WRHR Career Development Center
Yale University New Haven, Connecticut
Contacts:
Hugh S. Taylor, M.D. (PI): hugh.taylor@yale.edu
Vikki Abrahams, Ph.D. (Research Director): vikki.abrahams@yale.edu
More Information
NICHD Contact: Steven Kaufman