Overview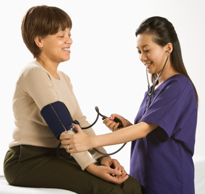 The WRHR program provides academic-setting opportunities for obstetrician-gynecologists (OB-GYNs) who recently completed postgraduate clinical instruction to obtain state-of-the-art training and experience in basic, translational, and clinical women's reproductive health research. The program, launched in 1998, also increases the research capacity of clinically trained OB-GYNs and provides obstetrics and gynecology departments a pool of junior investigators who have expertise in women's reproductive health research.
The WRHR program is funded through NICHD's Gynecologic Health and Disease Branch and co-sponsored by the NIH Office of Research on Women's Health as part of NICHD's K12 Institutional Career Development Program.
WRHR scholars at multiple sites throughout the Unites States represent a diverse group of physician-scientists from several subspecialties and emerging areas in obstetrics and gynecology.
Topic Areas
The WRHR program encompasses all areas of obstetrics and gynecology research, including general and subspecialty topics, maternal and fetal medicine, gynecologic oncology, reproductive endocrinology and infertility, and female pelvic medicine and reconstructive surgery (urogynecology). Related fields, such as perimenopausal management and adolescent gynecology, are also of interest.
Senior investigators from established research programs, which address a broad range of basic and applied biomedical and biobehavioral science, in obstetrics, gynecology, and collaborating departments form an intellectual and technical research base for mentoring WRHR scholars.
Current Sites
WRHR program sites for 2020 through 2025 include the following; please consult the site for specific contact information:
More Information