Overview
The Rare Disease Act of 2002 (P.L. 107-280) directed the NIH Office of Rare Diseases Research (ORDR) to establish a Rare Diseases Clinical Research Network (RDCRN)

—a collaborative  network of investigators and patient groups, in partnership with technology leaders, that focuses on studying rare diseases to enhance communication and resource sharing. The first competition for the RDCRN in 2003 established eight funded consortia using the U54 mechanism.
In 2014, the entire program was re-competed under the auspices of the National Center for Advancing Translational Sciences (NCATS), the new home for ORDR, with a total of 22 consortia receiving funding to study more than 200 rare diseases in collaboration with 98 patient advocacy groups. 
In partnership with NCATS and other institutes at NIH, NICHD—through its Intellectual and Developmental Disabilities Branch (IDDB)—supports the following consortia.
Current NICHD-Supported Consortia
Brittle Bone Disorders Consortium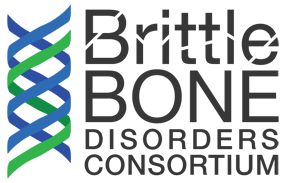 The Brittle Bone Disorders Consortium focuses on understanding and providing better therapeutic options for osteogenesis imperfecta, which describes conditions associated with bones that break easily and can cause deformity, chronic pain and death.
This consortium encompasses 13 inherited bone fragility conditions. It is co-funded by NICHD, NIAMS, and NIDCR.
Visit https://www.rarediseasesnetwork.org/cms/bbd

 for more information.
Developmental Synaptopathies Constorium
The Developmental Synaptopathies Consortium focuses on synaptopathies associated with tuberous sclerosis complex, PTEN Hamartoma Tumor Syndrome, and Phelan-McDermid syndrome. These three conditions share features of autism spectrum disorder and intellectual disability as well as common genetic pathways.
The consortium is co-funded by NICHD and NINDS. Visit https://www.rarediseasesnetwork.org/cms/dsc

 for more information.
North American Mitochondrial Disease Consortium (NAMDC)

Mitochondrial diseases affect approximately 1 in every 5,000 people. They can cause muscle weakness, cognitive impairment, seizures, hearing and vision loss, stomach problems, learning disabilities, and organ failure.
NAMDC is a network of clinicians and researchers working to better understand mitochondrial conditions, improve diagnosis, and develop treatments for these disorders.
It is co-funded by NINDS and NIH ORDR.
Rett and MECP2-Related Disorders Consortium

The Rett and MeCP2-Related Disorders Consortium studies three distinct disorders: Rett syndrome (RTT), MECP2 duplication disorder, and RTT-related disorders that are caused by CDKL5 and FOXG1 mutations and have similar phenotypes to RTT.
Substantial understanding of the molecular basis of these disorders through this consortium will better discriminate the clinical expression of these mutations and identify treatments that may improve the function of affected individuals. The consortium is co-funded by NICHD and NINDS. Visit https://www.rarediseasesnetwork.org/cms/rett

 for more information.
Sterol & Isoprenoid Research (STAIR) Consortium  

The STAIR Consortium studies disorders related to cholesterol and other sterol and isoprenoid metabolism. These diseases share common biochemistry, impact on health, and rarity.
Diseases studied by the consortium include Smith-Lemli-Opitz syndrome

, Sjögren-Larsson syndrome

, mevalonate kinase deficiency

, sitosterolemia

(select 'Sitosterolemia' in the left nav), and cerebrotendinous xanthomatosis

.
Urea Cycle Disorders Consortium

The Urea Cycle Disorders Consortium examines disorders that affect the body's urea cycle, which regulates the metabolic process of converting wastes from the breakdown of food into urea. In urea cycle disorders, these wastes build up in the blood and cause neurological and other developmental problems. 
Past NICHD-Supported Consortia
Angelman, Rett, and Prader-Willi Syndromes Consortium (2004-2014)
The Angelman, Rett, and Prader-Willi Syndromes Consortium studied various aspects of these neurodevelopmental diseases. In addition to cognitive and developmental problems common to all three conditions and some shared mechanisms, each syndrome has unique symptoms and natural history.
Visit https://www.rarediseasesnetwork.org/about

for more information about this consortium.
More Information