Overview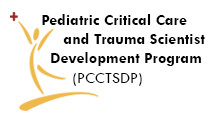 PCCTSDP is a national faculty training program that develops pediatric critical care and pediatric trauma physician scientists. The program's goal is to increase the number of highly trained, successfully funded, and sustainable pediatric critical care and pediatric trauma physician-scientists who will engage in research to enhance the scientific understanding, clinical management, and long-term outcome of critical illness and trauma in children. PCCTSDP is funded through RFA-HD-19-008 Pediatric Critical Care and Trauma Scientist Development Program (K12) by NICHD's Pediatric Trauma and Critical Illness Branch to select the most outstanding junior faculty candidates for sustained training as PCCTSDP scholars in research settings throughout the United States.
PCCTSDP is currently administered through the University of Utah School of Medicine, with program governance by the National Advisory Committee (NAC), composed of scientists and leaders in pediatric critical care and trauma surgery.
Scholar Support
PCCTSDP has two phases of support, requiring 5 years of commitment and participation from scholars and their institutions:
Phase I. Scholar is funded for up to 2 years while pursuing intense research training.

Throughout this period, the scholar trains in a mentored laboratory or clinical research setting, develops short- and long-term career development plans, and meets with the NAC to discuss and validate that the appropriate protection from clinical and administrative responsibilities has occurred to allow for a minimum of 75% protected time for research training.
Phase I PCCTSDP scholars receive salary support, limited laboratory support for supplies, travel to the annual PCCTSDP retreat and appropriate scientific meetings, and limited tuition support for specific training opportunities.

Phase II. Phase II scholars must be supported by their institution, preferably with extramural funding such as K08 or K23 NIH awards. Institutions must protect Phase II scholars for a minimum of 50% of time, but preferably for 75% of their time.
PCCTSDP adds value to the training of pediatric critical care and trauma scientists by acting in a complementary manner to the local institution. Such activities include the following:
Assistance with original application, by the program director
Interviews and interactions with NAC members
Assistance with preparation of extramural grant proposals
Site visits of Phase I scholar training institutions to verify training environment
Participation at the annual PCCTSDP retreat
Annual Retreat
An annual scientific retreat is held each fall to:
Allow networking between new applicants, mentors, and committee members
Provide opportunities for interviewing and selection of new applicants
Enable information sharing about the program
Allow new scholars and mentors to present their current research for exchange of ideas and feedback
Teach academic survival skills such as manuscript preparation, grant writing, giving oral presentations, navigating mentorship challenges and transitioning to becoming a mentor
PCCTSDP is committed to the principles of diversity in academic pediatric critical care and trauma medicine. Funding is available for potential candidates who are from a diverse background and have an early interest in pediatric critical care to participate in this annual retreat. These participants will join in a focused development session where they can view the application process and network with applicants, mentors, and National Advisory Committee members.
More Information