Overview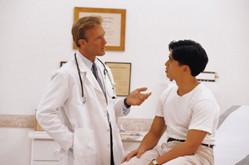 MCDP is a cooperative research program formed to expand research leading to the development of male contraception. The Contraception Research Branch, in collaboration with other NICHD branches, initiated and restructured various programs, including MCDP, to encourage a spectrum of activities leading to development of novel male contraceptives.
The program is funded through Cooperative Agreement Research award (U01) and Specialized Cooperative Research Center award (U54) mechanisms. MCDP includes sites that are also participating in other NICHD research programs, such as the Contraceptive Development Research Center Program and the Contraceptive Clinical Trials Network. The program also relies on Chemical Synthesis and Medicinal Chemistry facilities to develop and synthesize new drugs and to produce bulk quantities of drugs, under current Good Manufacturing Practices, for use in clinical trials.
Topic Areas
Research in MCDP includes basic, translational, and clinical studies on topics such as mechanisms that regulate sperm maturation and identification of new therapeutic targets for male contraception.
Other research topics include:
Development and characterization of novel male contraceptives, including H2-gamendazole, an orally active anti-spermatogenic compound
Studies of pharmaceutical targeting of a sperm-specific Na,K-ATPase a4 on male fertility
Research on retinoic-acid-receptor-specific inhibitors for male contraception
Deubiquitinating enzymes as targets for male contraception
Cell-cycle regulatory kinases as targets for male contraceptive drug development
Targeting the piRNA pathway and meiotic recombination for male contraception
More Information
NICHD Contact: Steven C. Kaufman