Overview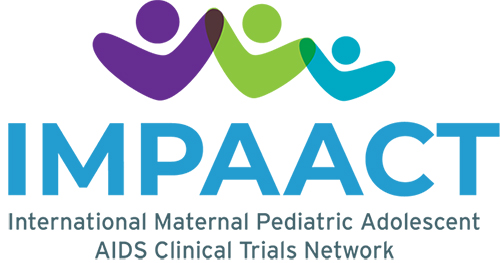 The IMPAACT Network is a cooperative group of institutions, investigators, and other collaborators focused on evaluating potential therapies for HIV infection and its related symptoms in infants, children, adolescents, and pregnant women, including clinical trials of HIV/AIDS interventions for and prevention of perinatal transmission.
The IMPAACT Network resulted from the merger of two predecessor networks: the Pediatric AIDS Clinical Trials Group and the perinatal scientific working group of the HIV Prevention Trials Network. Overall support and funding for IMPAACT is provided by the National Institute of Allergy and Infectious Diseases, with support and co-funding from the NICHD Maternal and Pediatric Infectious Disease Branch and the National Institute of Mental Health.
As a global project, the IMPAACT Network includes both domestic and international research agendas. The domestic research agenda includes a focus on evaluating the pharmacokinetics, safety, optimal dosing, and long-term complications of new antiretroviral therapies for HIV/AIDS in pediatric and adolescent populations, among other topics and activities. The international research agenda includes a focus on the prevention of perinatal transmission of HIV and reduction of maternal and infant morbidity and mortality from HIV/AIDS through studies such as Promoting Maternal and Infant Survival Everywhere (PROMISE). A new focus is on prevention of HIV acquisition by adolescent girls in low and middle-income countries.
The IMPAACT Network collaborates with the NICHD Domestic & International Pediatric & Maternal HIV & Other High-Priority Infectious Diseases Clinical Studies Network, the Adolescent Medicine Trials Network for HIV/AIDS Interventions, and with other NICHD-, NIH-, and organization-led HIV/AIDS research networks and projects.
Topic Areas
The IMPAACT Network conducts clinical trials of HIV/AIDS therapy, prevention, and potential remission/cure in maternal, pediatric, and adolescent patients. Current network studies include the following:
A randomized trial (PROMISE) comparing various antenatal and postnatal strategies of preventing perinatal transmission of HIV in different geographical areas and resource settings
A clinical trial to determine whether women with CD4 counts above the country threshold for initiation of antiretroviral (ARV) therapy should continue or discontinue ARV therapy after pregnancy
A study of the pharmacokinetics and safety of ARV drugs in pregnant HIV-infected women
Several pharmacokinetic studies to evaluate interactions between ARV drugs and anti-malarial medications, anti-tuberculosis (TB) medications, and psychiatric medications
Several studies evaluating the safety and efficacy of different vaccines in HIV-infected children, including rotavirus, meningococcal, parainfluenza, human papillomavirus, and anti-TB vaccines
Studies to evaluate the pharmacokinetics and safety of drugs to treat complications of HIV or its treatment, including atorvastatin to treat hyperlipidemia associated with ARV drugs and alendronate to treat low bone mineral density in infected children
Studies of new ARV drugs, such as raltegravir, etravirine, and dolutegravir, in infants, children, and adolescents
Studies to evaluate the pharmacokinetics of ARV drugs in children with special conditions such as malnutrition or prematurity
Strategies for the treatment of children with HIV with multi-class drug failure
Strategies for very early treatment of neonates with HIV and its effect on viral reservoir and potential for remission of HIV
Visit the IMPAACT Network Web site: Research Areas
 for more details.
More Information