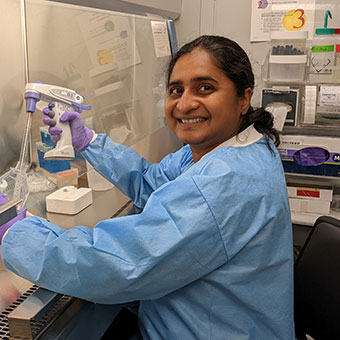 Postdoctoral Fellow
Section on Molecular Transport
Eunice Kennedy Shriver
National Institute of Child Health and Human Development
29 Lincoln Dr. Bldg. 29B, Rm. 1G11
Bethesda, MD 20892
Telephone: 301-451-1925
Email:
megha.rajendran@nih.gov
Personal statement:
I am a cell biologist with interest in the regulation of metabolism during development, aging, and diseases. I joined the Section on Molecular Transport to focus on the mitochondrial channel VDAC and its regulation by interacting partners. My goal is to better understand the role of VDAC in metabolic regulation.
My current projects include:
The role of VDAC isoforms in metabolic regulation and calcium signaling.
The role of VDAC interaction with α-synuclein, a neuronal protein related to Parkinson's disease, in α-synuclein-induced mitochondrial toxicity.
Development of peptide therapeutics targeting VDAC-α-synuclein complexation to reduce mitochondrial dysfunction in Parkinson's disease.