New finding could help identify those at highest risk for testicular cancer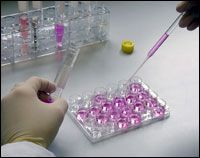 Even though testicular cancer is the most common form of cancer to strike young men, ages 15 to 35, most people knew little about the disease until world-class U.S. cyclist Lance Armstrong was diagnosed with it in the 1990s. When detected early, testicular cancer has a nearly 90-percent cure rate. But most men don't find out about the cancer until it has spread to other body organs. Knowing who is at highest risk could be the key to improving cure rates and health outcomes for millions of men throughout the world. (Armstrong, diagnosed at age 25, underwent successful treatment for his cancer and went on to win multiple cycling championships, including the 1999-2005 Tour de France.)
Because the risk of testicular cancer has a hereditary component, it is important for researchers to understand what gene or genes are involved in this risk and how the function or dysfunction of the gene or genes impacts risk.
Researchers in the NICHD Section on Endocrinology and Genetics, working with colleagues from the National Cancer Institute, recently identified a gene related to risk for the most common type of testicular cancer. The gene is only the second to be found to affect the risk of testicular cancer. To learn more about this important finding, visit Second Gene Linked to Familial Testicular Cancer.
This discovery could someday give health care providers an edge in treating testicular cancer among men who have the gene. Knowledge of genetic risk could enable men to start treatment very early in the course of the disease, which could improve successful treatment outcomes.
For more information on this research finding and on testicular cancer, select one of the links below:
Originally Posted: June 29, 2009