Safe and Effective Prevention and Treatment for Seasonal Flu in Pregnant Women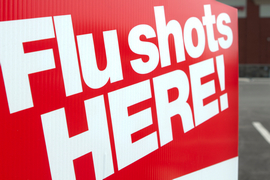 Having the flu usually means several days of discomfort in the form of coughing, sneezing, stuffy or runny nose, and sore throat. Some people also experience fever, aches and pains, and even vomiting from the flu.
But for pregnant women, having the flu can also mean risks to her health, some of them serious, and to the health of her fetus.
Pregnant women who get the flu are at higher risk for hospitalization and even death than are non-pregnant women with the flu. That's because a woman's body experiences changes to the immune system, respiratory system, and cardiovascular system function as a normal part of pregnancy. When combined with the flu, these changes can sometimes result in serious problems.
Infection during pregnancy can also pose risks to the health of the fetus and may increase the risk for problems such as preterm birth and birth defects. Simply having the flu does not mean these problems will definitely occur, but it does increase the risk of these and other conditions.
In pregnant women, the best defense against the flu is a good offense: Getting a flu shot.
The flu shot or "inactivated flu virus vaccine" can prevent the flu from occurring at all or can sometimes lessen the symptoms and their severity. When received during pregnancy, the vaccine also protects a newborn from the flu for up to 6 months.
NICHD-supportedi and other researchii has shown that the flu shot is safe and effective for use at any time during pregnancy. There is no evidence that it is harmful to mothers or to fetuses; likewise, there is no evidence of poor health outcomes among infants whose mothers received the flu shot during pregnancy.
The Centers for Disease Control and Prevention (CDC) recommends that pregnant women and women who will be pregnant during flu season be vaccinated against seasonal flu with the flu shot (not with the nasal form of the vaccine): https://www.cdc.gov/vaccines/pregnancy/.
For more information about foiling the flu during pregnancy, visit http://www.cdc.gov/flu/protect/vaccine/pregnant.htm.
Originally posted: December 26, 2013
---
http://www.ncbi.nlm.nih.gov/pubmed/23921876; https://pubmed.ncbi.nlm.nih.gov/23762229/; http://www.ncbi.nlm.nih.gov/pubmed/23635613; http://www.ncbi.nlm.nih.gov/pubmed/23090460; http://www.ncbi.nlm.nih.gov/pubmed/22920059; http://www.ncbi.nlm.nih.gov/pubmed/22920053; http://www.ncbi.nlm.nih.gov/pubmed/18799552; http://www.ncbi.nlm.nih.gov/pubmed/21058908