Setting an ambitious research agenda for the next decade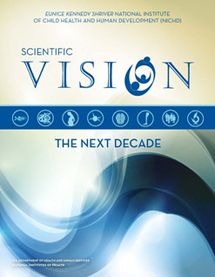 On December 5, 2012, the NICHD released the Scientific Vision: The Next Decade, the culmination of a collaborative process that began in 2011 to identify the most promising scientific opportunities for the Institute and the research community to pursue over the next decade. The Vision statement was made available during the NICHD's 50th anniversary colloquium.
The Vision aims to challenge the NICHD, its many partners, and the broader scientific community to ask and answer the truly difficult scientific questions that show promise of improving the health of all children, women, and families in the decades ahead.
The Vision process involved more than 700 researchers, clinicians, policy experts, and other stakeholders from 39 states and six foreign countries, representing 229 institutions and organizations.
For details about the Vision and the research agenda it defines, visit NICHD Vision statement now available online.
Over the coming year, the NICHD will work to identify priority areas on which the Institute will focus its initial efforts in implementing this Vision. For more information, about the Vision process, select one of the following links:
Previous NICHD Spotlight on Scientific Vision Statement:
NICHD News Releases on Scientific Vision Statement:
Originally Posted: December 21, 2012