Experts will examine the available scientific evidence and identify future research priorities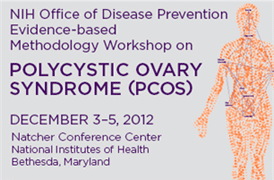 PCOS is the most common cause of anovulatory infertility (related to the absence of ovulation), affecting an estimated 100 million women of childbearing age worldwide, and about 5 million women of childbearing age in the United States.
In addition to infertility, PCOS includes other symptoms, such as fluid-filled sacs or cysts on one or both ovaries, hormone imbalances, skin problems, and excess hair growth. It is also associated with conditions such as insulin resistance and obesity.
Although the condition is most often diagnosed in women between the ages of 18 and 44, research suggests that features of PCOS are present before a girl has her first period.
In 1990, the NICHD led an NIH conference on PCOS to create a working definition of this poorly understood condition and to determine the best criteria for diagnosis. That conference resulted in the NIH Criteria for PCOS diagnosis, which served as the standard for researchers and clinical physicians for more than a decade. Another workshop on PCOS, held in Rotterdam, Holland, in 2003 produced the Rotterdam Criteria.
To evaluate the latest research findings on PCOS, the NICHD and the NIH Office of Disease Prevention are hosting the Evidence-Based Methodology Workshop on Polycystic Ovary Syndrome (PCOS), December 3–5, 2012, on the NIH main campus. This free workshop is open to the public, but registration is recommended.
At this workshop, independent experts will look at the collected evidence and will address the following questions:
What are the benefits and drawbacks of using the Rotterdam Criteria?
What are the causes, predictors, and long-term health consequences of PCOS?
What are the best treatment and prevention strategies?
During the workshop, attendees and participants will be able to provide comments. At the end of the workshop, the independent panel of experts will draft a report that summarizes the workshop and identifies priorities for future PCOS research.
For more information, select one of the links below:
Originally Posted: November 21, 2012