Studies aim to improve fit, function, and control of prosthetic devices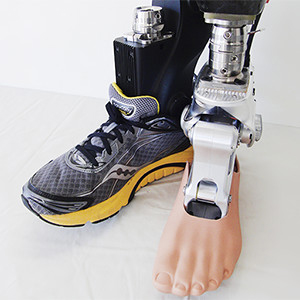 Recent advances in prosthetic materials, technology, and design have improved choices for injured veterans and many others who have had a limb amputated as a result of a congenital condition, injury, or disease.

NICHD's National Center for Medical Rehabilitation Research (NCMRR) funds research projects to improve prosthetic fit, reduce infection, and enhance mobility so that amputees can improve their quality of life.
Making Strides in Leg and Foot Devices
The ankle provides power and stability when a person walks or runs, and prosthetic devices that limit ankle motion and power can contribute to an uneven gait and pain in a person's joints or back. A research team led by Matthew Holgate, Ph.D., at SpringActive, Inc., is testing a battery-powered prosthetic ankle that will produce a more normal walking style, enable faster running, allow movement on uneven terrain, last longer, and generate less noise. The researchers will partner with the Minneapolis Veterans Administration Health Care System to test and refine the ankle.
Researchers at the University of Alabama led by Xiangrong Shen, Ph.D., also are working on engineering a lightweight prosthetic ankle that can generate energy and power a person's movement like a flesh-and-bone ankle joint. The technology uses a chemical reaction to generate the energy to drive the prosthesis's artificial muscle.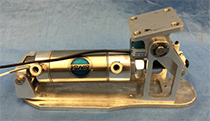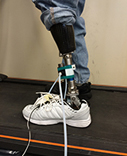 A lightweight prosthetic ankle (left) that can fit into a shoe (right) is being developed by researchers at the University of Alabama led by Xiangrong Shen, Ph.D.
Photo credit: Xiangrong Shen, Ph.D.
Peter G. Adamczyk, Ph.D., and a team at Intelligent Prosthetic Systems, LLC, are developing a computer-controlled prosthetic foot that automatically changes its stiffness to better accommodate the variable demands of daily life. In particular, the user can make adjustments to improve stability, make standing more comfortable, or reduce the force of impact on the residual limb during walking.
Refining a person's control of his or her prosthetic limb also is a goal of Levi J. Hargrove, Ph.D., and his team at the Rehabilitation Institute of Chicago. They aim to improve processing of electrical signals from leg muscles that control robotic prostheses to make them more responsive and easier to control.
Preventing Falls
Researchers estimate that each year, up to 60% of people with a leg amputation fall. Studying how people recover their balance after tripping or stumbling may offer ways to prevent falls among amputees and the elderly. Jonathan B. Dingwell, Ph.D., at the University of Texas at Austin, uses virtual environments to record how people maintain and recover their balance, for example, while walking on uneven terrain.
Grasping the Complexity of the Hand and Arm
To improve the comfort and functionality of prosthetic hands, Marco Santello, Ph.D., and a team at Arizona State University are incorporating soft materials and designing fingers that can move independently and mold around objects.
Rahul Reddy Kaliki, Ph.D., and Infinite Biomedical Technologies, LLC, have developed a wireless prosthetic control system that uses radio-frequency identification tags on specific objects to activate a certain grip. Users can, for example, place the "grasp" tag on their coffee pot, making it easier to quickly grasp the handle.
Blair Lock, MScE, at Coapt, LLC, is developing technology for users of powered arm prostheses. It builds on pattern recognition research from the Rehabilitation Institute of Chicago and may be used to improve the user's control of various prosthetic arms currently on the market and those under development.
Ensuring a Better Fit
Several studies focus on the interface between the residual limb and the prosthetic device. Joan E. Sanders, Ph.D., and her team at the University of Washington are developing ways to evaluate the materials used at this interface to help patients and health care providers choose liner materials that will best increase stability and reduce the possibility of tissue injury. They are examining factors such as durability, cushioning, and breathability. Dr. Sanders and her team are conducting separate studies to evaluate socket size and design and to investigate how the shape and size of the limb changes over the course of the day and how prosthetic devices can best accommodate these variations.
Also at the University of Washington, Brian J. Hafner, Ph.D., and his team are developing a measurement system to evaluate health outcomes in people with lower limb amputation. The system will be used to examine how particular prostheses have an impact on pain, depression, fatigue, physical function, and mobility.
Fighting Infections
When the silicone liner covering the remaining portion of the amputated limb becomes warm and moist, infections and other skin-related problems can develop. Greg Bertsch, M.S., leads a team at Antimicrobial Materials, Inc., to develop an antimicrobial liner that controls odor and reduces infection risk.
Noreen J. Hickok, Ph.D., and her team at Thomas Jefferson University are working with researchers at University College London to develop a prosthesis anchored into the bone that also prevents infection and optimizes bonding between the anchor and the surrounding soft tissue.
Solving the Complexity of Human Locomotion
Human locomotion requires a complex set of skills that are done unconsciously, which makes designing an effective prosthetic leg a major challenge. Hartmut Geyer, Ph.D., of Carnegie Mellon University, is developing mathematical and computational models of human locomotion biomechanics and motor control. His team is using the models to improve the control and dexterity of powered robotic legs.
Technological advances, including advances in robotics, have led to a new generation of prostheses. NCMRR will continue to help fund this research to help those who have lost a limb live healthy, independent, and productive lives.
More Information
A–Z Health and Research Topics:
News Releases Related to NCMRR
Originally Posted: November 13, 2015