NICHD expands its efforts to reduce the risk of Sudden Infant Death Syndrome (SIDS) and other sleep-related causes of infant death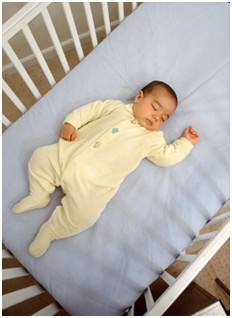 Midway through SIDS Awareness Month and in the midst of its annual conference, the American Academy of Pediatrics (AAP) released updated recommendations for promoting infant safe sleep.
The updated guidelines not only address ways to reduce the risk of SIDS, but also ways to reduce the risk of other sleep-related causes of infant death, such as suffocation or strangulation. The expanded AAP recommendations are available at: http://pediatrics.aappublications.org/content/early/2011
/10/12/peds.2011-2284

. You can also read about HHS agencies support for infant safe sleep recommendations.
The NICHD—through its research on SIDS and its SIDS outreach efforts, including the Back to Sleep campaign—has been working to understand SIDS and to reduce SIDS risk since the 1970s.
In 1994, the NICHD and its partners, including the AAP, launched the Back to Sleep campaign to raise awareness that placing infants on their backs to sleep reduced the risk of SIDS. Since then, the U.S. SIDS rate has dropped by more than 50 percent overall and the percentage of infants placed on their backs to sleep has more than tripled.
The number of sleep-related infant deaths that aren't from SIDS has risen sharply in the last decade. The rates of suffocation, strangulation, entrapment, and asphyxia have increased, often resulting from unsafe sleep environments for infants. For instance, 7 infants in Pittsburgh, Pennsylvania, died between May and August 2010, and each death was the result of the baby's sleep environment. Some were in adult beds and were suffocated when an adult rolled over them; others were found wedged between the back and seat of a couch. Combined, SIDS and other sleep-related causes of infant deaths exact too high a toll on communities in the United States and abroad.
Although its main message was initially focused solely on reducing SIDS risk, the Back to Sleep campaign has included messages about safe sleep environments since the late 1990s. Efforts are currently underway to revise and expand the campaign's identity to more accurately reflect its focus on SIDS risk reduction and safe sleep environments. This expanded identity will incorporate the NICHD's research findings on the possible mechanisms of SIDS, as well as the AAP's safe sleep recommendations. The expanded Back to Sleep campaign should debut in 2012.
The NICHD and the Back to Sleep campaign have not wavered in their commitment to reducing the risk of SIDS and promoting safe sleep environments—and their activities related to raising awareness and spreading safe sleep messages have only increased. For example:
Accredited continuing education activities on ways to reduce the risk of SIDS and create a safe sleep environment are available for nurses and for pharmacists.
Outreach materials are available and training materials will soon be available to help spread safe sleep messages within American Indian/Alaska Native communities.
The campaign is preparing to launch a more comprehensive Web site on SIDS and safe sleep.
A revised multi-cultural resource kit will soon be available so that persons in all communities can learn how to spread safe sleep messages in their communities.
The campaign will also be revising its existing materials to reflect the just released AAP safe sleep recommendations.
For nearly 20 years, the NICHD and the Back to Sleep campaign have been working to reduce infant deaths from a variety of causes, including SIDS and unsafe sleep environments. This important work complements many other NICHD research and outreach efforts to help promote healthy and safe child development.
For more information about NICHD-supported research and other efforts to reduce SIDS, select a link below:
Originally posted: October 18, 2011