New Packet of Tailored Training Materials and Activities Will Help Get Safe Infant Sleep Messages into Native Communities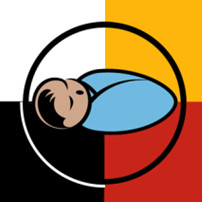 The NICHD and its collaborators in American Indian/Alaska Native (AI/AN) communities recently released a packet of tailored training materials and activities intended to help spread safe infant sleep messages in Native communities.
The Facilitator's Packet is part of the Healthy Native Babies Project, a unique outreach component of the Safe to Sleep® campaign (formerly the Back to Sleep campaign) that relies on collaboration with and the expertise of those who live and work in Native communities.
AI/AN infants have the highest rates of sudden infant death syndrome (SIDS) in the United States and are nearly three times more likely to die of SIDS than are white infants. In addition, SIDS rates are particularly high in certain areas of the U.S. Northern Tier, namely: Aberdeen, Alaska, Billings, Bemidji, and Portland.
To help understand these disparities, reduce infant mortality, and improve infant health, the NICHD initiated a series of meetings in 2002 with representatives from Native communities, Native-serving organizations, and the Northern Tier areas. The effort later became the Healthy Native Babies Project.
A primary focus of the Project is to create materials, messages, and methods for sharing safe infant sleep and other health information in Native communities. These materials, messages, and methods not only have to be culturally appropriate, but also easily relatable to members of Native communities. The newly released Facilitator's Packet joins other materials in a suite of Project items specifically tailored for those living in Native communities in the Northern Tier.
"It's exciting to have these essential training materials available," said Dr. Shavon Artis, who leads Safe to Sleep® activities for the NICHD. "This Project is unique in that it is truly collaborative. Representatives from Native communities and those on the Project Workgroup provide valuable input and feedback, which allow us to create culturally tailored materials and messages that really resonate with community members."
The new Healthy Native Babies Project Facilitator's Packet—currently available online only, but will be in stock in hard copy shortly—is designed to complement the Healthy Native Babies Project Workbook Packet, which includes a Toolkit CDROM that enables users to create custom outreach materials, released in 2010. The Facilitator's Packet includes facilitator's guides, slide presentations, and additional materials for both full-day and 2-hour training sessions. Both sessions include background on SIDS and other sleep-related causes of infant death, information about ways to reduce the risk, and resources related to safe infant sleep.
Both trainings incorporate two key features that aim to make the trainings effective and engaging. First is the concept of a "risk continuum." Because there is no known way to prevent SIDS, the actions that parents and caregivers take can really only increase risk or reduce risk. The goal is to reduce the risk as much as possible by educating parents and caregivers about risk-reduction behaviors, while supporting them in making informed decisions. Hands-on activities are another key feature of the trainings. These activities enhance trainees' understanding of risk-reduction strategies and safe sleep messages. More importantly, the activities give trainees practical tools for overcoming challenges to those strategies and messages that they might encounter in the real world.
Community health workers have been using the draft training materials in Native communities to evaluate their effectiveness and to gather feedback. Additional proposed Project activities include an online self-study module, webinars, and video demonstrations of training activities.
Through its ongoing Healthy Native Babies Project and other collaborations, the NICHD and its partners aim to make a life-saving difference in the health of infants in AI/AN communities.
For more information, select one of the links below:
Safe to Sleep® Campaign Website
Previous NICHD Spotlights on SIDS and Other Sleep-Related Causes of Infant Death:
Related A-Z Topics:
Originally Posted: September 13, 2013