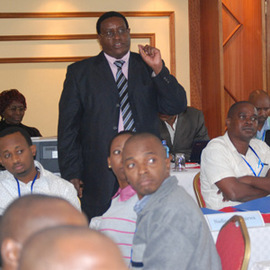 Global health research is an important part of the work of the NICHD. In addition to funding research projects directly, the Institute helps other countries build the research capacity that's so critical to improving health and saving lives. A key example is the Initiative on Research and Innovation Management (iRIM), a collaborative effort by the NICHD and Fogarty International Center, funded by the U.S. President's Emergency Plan for AIDS Relief (PEPFAR). This initiative gave representatives from African academic institutions valuable training in research management and the opportunity to share their knowledge with colleagues.
Recipients of the iRIM supplements developed a training module, based on the NIH Biomedical/Biobehavioral Research Administrator Development (BRAD) Program curriculum, to teach academic institutions how to strengthen research administration staff and infrastructure. Subsequently, the NICHD held workshops in Kenya, Nigeria, South Africa, Tanzania, Zambia, and Senegal, at which a total of 208 researchers and administrators from 32 countries participated.
The workshops had the following goals, among others:
To strengthen the research development offices at participating institutions
To provide comprehensive information on grant preparation, application procedures, and awards management
To provide participants with materials to lead local workshops on the NIH grant process
NICHD staff from the Office of Health Equity and the Grants Management Branch worked with grantees to make the workshop materials available to a broader audience on the new website Research Administration: The Bridge to Sustainable Research

. These materials—interactive tutorials, video presentations, and PowerPoint slides—cover an array of topics, including:
Research integrity and ethics
The establishment of an office of sponsored programs
Professional development for research administrators
The processes for preparing and submitting reports
Financial management
The procedures for closing out a grant
In addition, the NICHD produced French-language materials—four tutorials along with 13 slide presentations from the workshop held in Senegal.
By assisting in the training of international researchers and administrators, the NICHD aims to expand and perpetuate a strong research culture in Africa, an effort that will ultimately help improve health all over the world.
More Information
For more information about grants and NICHD's international research, select one of the following links:
Research Administration: The Bridge to Sustainable Research
NICHD Resources
Originally Posted: July 28, 2014