Recent meeting aimed to set a research agenda for this chronic pain disorder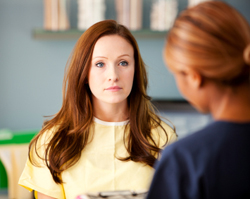 A hidden multitude of women are living with chronic pain that makes sexual intercourse, sitting, or even wearing certain clothing difficult or impossible. Women with this pain disorder, called vulvodynia, experience recurrent or constant extreme pain of the vulva with no apparent cause.
Although the exact number of women with vulvodynia is unknown, researchers estimate that 18 percent of American women from all racial backgrounds experience symptoms of vulvodynia at some point in their lives. The evidence suggests that most women either do not seek help at all, or go from doctor to doctor seeking diagnosis and treatment without answers.
Researchers and health care providers currently know very little about why and how vulvodynia occurs—the condition and the pain have no known cause or cure. Although therapies can help relieve symptoms of vulvodynia, the condition can have potentially serious consequences for women's reproductive health and quality-of-life.
On July 11-12, 2011, the NICHD and the NIH Office of Research on Women's Health (ORWH) sponsored the Vulvodynia: A Chronic Pain Condition—Setting a Research Agenda meeting to continue focused efforts to understand vulvodynia. This meeting involved more than 75 researchers and members of organizations and agencies interested in the condition. Unlike previous conferences, this meeting aimed to look at vulvodynia from a new angle—as a chronic pain condition, rather than as a gynecologic disorder. By bringing together researchers from various fields and expertise and exploring the basic pathophysiology of chronic pain, the meeting created the foundation for new, interdisciplinary collaborations and innovative approaches to studying vulvodynia.
"Chronic pain affects 100 million people in America, at tremendous cost," said Dr. Alan Decherney, director of the NICHD's Program in Reproductive and Adult Endocrinology within the Division of Intramural Research and co-organizer of the meeting. "Chronic pelvic pain, such as from vulvodynia, affects 20 million to 30 million people, and it occurs in women of all ages. Understanding vulvodynia is an important part of the Institute's mission to improve women's quality-of-life."
The NICHD's Fertility and Infertility (FI) Branch also supports research and research training on chronic pelvic pain, including vulvodynia. Selected RS Branch activities related to vulvodynia include the following:
In 2007, the NICHD joined the ORWH, the National Institute of Neurological Disorders and Stroke, the NIH Pain Consortium, and other partners in establishing the Vulvodynia Awareness Campaign. You can order campaign materials at http:// www.nichd.nih.gov/publications/pubs_details.aspx?from=&pubs_id=5692.
The NICHD's FI Branch supports several ongoing projects on vulvodynia:
Other previous NICHD-supported projects related to vulvodynia include: studies of the mechanisms of vulvodynia, assessment of new treatments, and improvements in diagnosis of vulvodynia, among other areas of research.
The NICHD and the ORWH are also co-sponsoring three funding opportunity announcements (FOAs)— Vulvodynia: Systematic Epidemiologic, Etiologic, or Therapeutic Studies, available in the NIH Guide at PAR-10-190 (R01), PAR-10-191 (R03), and PAR-10-192 (R21)—that encourage researchers to pursue systematic epidemiologic, etiologic, and therapeutic studies of vulvodynia, while also addressing and expanding the research capacity on the topic. The NICHD and ORWH will hold a pre-application technical assistance Webinar on July 22, 2011, for investigators who are interested in the FOAs.
Through these research grants, meetings, and outreach activities, the NICHD not only aims to increase awareness of vulvodynia among researchers, health care providers, and women, but also to build a more complete scientific understanding of occurrence, mechanisms, treatment, and prevention of the disorder.
For more information on vulvodynia, select one of the links below:
NICHD's A–Z Health and Human Development Topic: Vulvodynia
NICHD Publications:
ORWH:
NIH National Library of Medicine
Originally posted: July 21, 2011