New NIH Resource for 3D Printing To Benefit Scientists and Educators
Every week seems to bring another story about 3D printing and its potential for creative new applications—from cars

to aircraft parts

, high-end fashion

to astronaut food, and low-cost prosthetic hands

to life-saving medical implants

and artificial organs

.
Now NIH's intramural program is getting in on the action.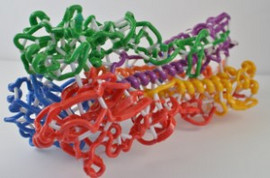 Researchers at NIH printed this model of hemagglutinin, a receptor on the influenza virus. The 3D print allowed them new insight into a critical feature of the protein structure, and led to a breakthrough discovery toward development of a universal flu vaccine.
(Photo: Jeremy Swan)
Last month the National Institutes of Health launched the NIH 3D Print Exchange, the first government website dedicated to 3D printing. This unique resource, focused exclusively on scientific and biomedical 3D printing, gives the public free access to 3D print files, tutorials, educational materials, and more.
Scientists and educators may be particularly interested in the website's offerings, which so far include more than 400 models of various molecules, viruses, anatomical structures, and customized lab equipment.
These materials have various uses. The molecular models may help scientists better understand protein structure and function, while the 3-D printed frog dissection kit may be a handy substitute for classrooms without access to frog specimens. The site also has resources for health care professionals, like the web tool that converts medical imaging data—from a CT scan, say—into 3D-printable files of personalized anatomical models, which have been useful for patient and student education, and in helping doctors prep for surgery. The website's library of printable files, and their uses, will grow as more NIH staff and public users create and share additional files.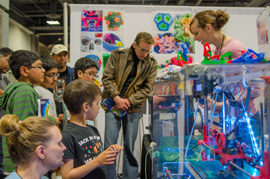 Attendees at the USA Science and Engineering Festival watch 3D printers in action. (Photo: Jeremy Swan)
3D printers create physical objects by building up thin layers of material. The newest, most affordable and versatile printers melt and release plastic material through a heated nozzle. A digital file instructs the printer nozzle how to move over a platform, which may itself move or stay fixed in place. Repeating its highly choreographed pattern over and over, the nozzle squirts out the melted plastic onto the platform like a high-tech glue gun. The resulting object, often unrecognizable at the start, takes shape as the layers gradually increase over time.
The NIH 3D Print Exchange aims to make 3D printing more accessible to a broader community of users. By every indication, it's off to a promising start: already this year the resource was featured at the USA Science and Engineering Festival

and the White House Maker Faire.
NIH sees even greater potential for 3D printing as technologies develop, giving a new dimension to biomedical research in the future.
* * * * *
The NIH 3D Print Exchange was developed by the National Institute of Allergy and Infectious Diseases (NIAID), in collaboration with the NICHD and the National Library of Medicine. For more information, see NIAID's press release, "NIH Launches 3D Print Exchange for Researchers, Students," or email 3Dprint@nih.gov.
Originally Posted: July 16, 2014