Plan will guide and coordinate NIH research efforts on Fragile X syndrome and two associated disorders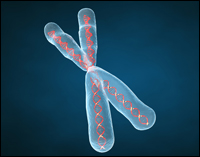 In 1991, NICHD-supported scientists discovered the gene that causes Fragile X syndrome (FXS) on the X chromosome, ushering in a new era of research on both the gene itself and on its then newly discovered mechanism for inheritance. More recently, researchers identified two disorders—Fragile X-associated Tremor/Ataxia syndrome (FXTAS) and Fragile X-associated Primary Ovarian Insufficiency (FXPOI)—that are related to the gene that causes FXS, but that have features and symptoms vastly different from FXS. Researchers working for and with support from across the NIH have made significant advances in the understanding of FXS and the associated disorders FXTAS and FXPOI. Now, a new research plan on these three disorders will give scientists around the country a new tool to better coordinate their research.
In 2007, the Trans-NIH Fragile X Research Coordinating Group was established to coordinate research efforts among NIH Institutes on:
FXS—the most common inherited form of intellectual and developmental disability (IDD); FXS includes language difficulties and emotional and behavioral problems, including autism spectrum disorders.
FXTAS—a group of tremor and gait/walking problems; FXTAS occurs mainly in older men.
FXPOI—early infertility and increased risk for osteoporosis and heart disease among women of childbearing age; POI is also known as premature ovarian failure and can occur without being related to the gene for FXS, but it is much more common among women who have the problem in the FXS gene.
Members of the Group support and conduct research on these disorders and include: the NICHD, the National Institute of Mental Health, the National Institute of Neurological Disorders and Stroke, the National Institute on Aging, the National Institute of Diabetes and Digestive and Kidney Diseases, the National Institute of General Medical Sciences, the National Cancer Institute, and the National Institute on Deafness and Other Communication Disorders.
In response to a request from the Senate Appropriations Committee, the Group convened a series of meetings with scientific experts, advocacy groups, including the National Fragile X Foundation

and the FRAXA Research Foundation

, representatives for affected individuals and family members, and other federal agencies to develop comprehensive recommendations for specific, high-priority research objectives on FXS, FXTAS, and FXPOI. These recommendations, outlined in the newly issued NIH Research Plan on FXS and Associated Disorders, are designed for the NIH, for the FXS, FXTAS, and FXPOI research communities, and for other federal agencies and institutions to coordinate research activities that will lead to timely detection, diagnosis, treatment, and prevention of these disorders.
The Coordinating Group and the NIH Research Plan on FXS and Associated Disorders represent a continuation of efforts by the NIH, the scientific community, advocacy associations, and other federal agencies to make the most of every research opportunity to enhance health among people in the United States and throughout the world.
On July 22, 2009, advocates and parents will be in Washington, D.C., for National Fragile X Awareness Day. Visit the National Fragile X Foundation

or the FRAXA Research Foundation

for more details on Awareness Day activities.
For more information about FXS, its associated disorders, and the new research plan, select one of the links below:
Originally Posted: July 16, 2009