Federal Report on the Health and Well-Being of U.S. Children Shows Gains and Losses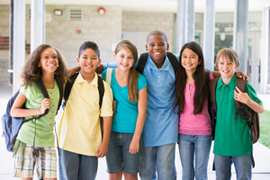 Children age 17 and under account for almost one quarter of the U.S. population, according to the U.S. Census Bureau. Because they make up such a large and important group in this country, and because their current health and well-being has implications for the nation's future, a national priority is to monitor, protect, and improve children's health and well-being.
To help meet this need, since 1997 the Federal Interagency Forum on Child and Family Statistics has issued an annual report on the health and well-being of the nation's children.
The report—America's Children: Key National Indicators of Well-Being—includes statistics and trends and provides detailed data on key indicators covering 7 domains of children's well-being, such as health care, education, and family environment. By issuing the America's Children report, the Forum aims to provide all of the latest statistics on U.S. children in one convenient volume to inform decisions of those who work with or on behalf of children. 2013 marks the 16th annual report in the America's Children series.
Among the findings is that the proportion of children in the U.S. population declined slightly over previous years. The report also notes that nation's children are increasingly racially diverse; based on the data, researchers estimate that by 2050, at least one-half of U.S. children will be Hispanic, Asian, or of two or more races.
For a more complete description of the report's findings, visit Federal report shows drop in proportion of children in U.S. population. In addition, this month's Research Perspectives Director's Podcast focuses on the report and its findings; visit http:// www.nichd.nih.gov/about/overview/directors_corner/podcasts/Documents/NICHD_Research_Perspectives_070813.mp3 (MP3 - 14 MB) to listen to the podcast (podcast's transcript).
The 2013 report includes a special feature on kindergarten experiences and provides data on children's cognitive, socio-emotional, and learning skills in this key transition period in child development. This feature section also includes data on socioeconomic and racial and ethnic differences in kindergarteners' learning experiences.
The NICHD is one of the original members of the Forum and is actively involved with several Forum committees. The Institute also plays a lead role in communicating the report's findings to health care providers, educators, community leaders, and others who might be involved with the health and well-being of children.
The Forum includes 22 federal agencies as well as several private research organizations that are also involved in activities related to the health of children and families. The America's Children report complements some of the more technical or comprehensive reports produced by other Forum members.
For more information on the America's Children: Key National Indicators of Well-Being report, select one the following resources:
NICHD resources:

Research Perspectives Podcast on the America's Children Report (MP3 - 14 MB) (Podcast's transcript)
America's Children: Key National Indicators of Well-Being, 2013
NICHD information on previous America's Children reports:
Originally Posted: July 12, 2013