Experts Identify Research Priorities Related to Household Air Pollution (HAP)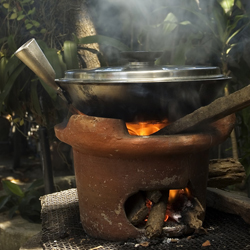 HAP from smoky, inefficient stoves, cook fires, and fuels is a leading cause of death and disability around the world. Unsafe stoves not only cause severe pneumonia in children, and cardiovascular disease, chronic obstructive pulmonary disease, and lung cancer in adults, but they also put women and children at risk for severe burns and scalds. HAP, also known as indoor air pollution, affects nearly 3 billion people, mostly in poorer countries, and contributes to an estimated 3.5 million deaths each year, according to the Global Burden of Disease Study 2010.1
A paper published recently in Public Library of Science Medicine, Household Air Pollution in Low-and Middle-Income Countries: Health Risks and Research Priorities

, explores key gaps in our understanding of HAP and its effects on health.
The paper's authors—NIH Director Francis S. Collins, M.D., Ph.D., the NICHD's William J. Martin II, M.D., and others—also suggest potential research strategies to advance HAP-related science and programs in the newly published article.
The paper represents a continuation of consensus-based efforts surrounding a 2011 international workshop, Health Burden of Indoor Air Pollution on Women and Children in Developing Countries. The workshop was supported by the NICHD, Fogarty International Center (FIC), National Institute of Environmental Health Sciences (NIEHS), and other NIH Institutes, as well as the U.S. Department of State, U.S. Environmental Protection Agency, the U.S. Centers for Disease Control and Prevention, the U.S. Agency for International Development, and the World Health Organization. Dr. Martin, head of the Unit on Lung Injury and Repair within the NICHD Division of Intramural Research and associate director for prevention research and health promotion helped to organize the workshop and leads the NICHD's research efforts on HAP. Visit NIH Research Highlights Health Impact of Indoor Pollution from Cooking for more information about the workshop.
The article explores specific health areas and cross-cutting issues related to HAP, including:
The need for biomarkers that better measure HAP exposure
The effects of HAP on women and children, who face greater exposure
Behavioral research on how best to encourage adoption of cleaner-burning stoves and other HAP-reduction behaviors
Quantitative assessment of cleaner stoves' performance in everyday use
The need to train multidisciplinary research teams to address complex and interrelated areas of HAP
As global efforts to promote cleaner stoves expand, the authors note, researchers must assess programs to determine whether they are producing the desired health outcomes. Other significant research priorities include better understanding of how HAP causes disease and the development of reliable measures of HAP exposure.
Although there are many obstacles to reducing HAP, the report's authors note that collaboration among researchers, governments, stove manufactures, and program implementers could improve health in hundreds of millions of households around the world.
The NICHD is also involved in other HAP-related research efforts, including the Global Alliance for Clean Cookstoves

. This public-private partnership of international stakeholders aims to create a global market for clean and efficient cookstoves and fuels in the developing world. The Alliance's "100 by '20" goal calls for 100 million homes to adopt clean and efficient stoves and fuels by 2020.
More Information
For more information, select one of the following links:
Martin II, W.J., Glass, R. I., Araj, H., Balbus, J., Collins, F. S., Curtis, S., . . . Bruce, N. G. (2013). Household air pollution in low- and middle-income countries: Health risks and research priorities . PLoS Med, 10(6): e1001455.
NICHD Resources
NIH Resources
Global Alliance for Clean Cookstoves
Originally Posted: June 28, 2013
---
Lim, S. S., Vos, T., Flaxman, A. D., Danaei, G., Shibuya, K., Adair-Rohani, H., . . . Ezzati, M. (2012). A comparative risk assessment of burden of disease and injury attributable to 67 risk factors and risk factor clusters in 21 regions, 1990-2010: A systematic analysis for the Global Burden of Disease Study 2010. The Lancet, 380(9859), 2224–2260.