For people with autism spectrum disorder (ASD), early detection and early intervention can help a great deal in improving outcomes. The American Academy of Pediatrics recommends that health care providers screen for ASD at the 18-month and 24-month visits. Meanwhile, researchers are working to develop screening tools that can detect the disorder even earlier.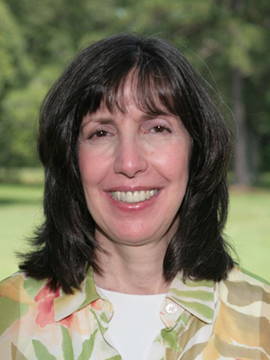 Photo: Bill Lax/FSU Photo Lab
Among these researchers is NICHD grantee Amy Wetherby, Ph.D., director of the Autism Institute at Florida State University. She is testing the validity of a new online screening tool, the Early Screening for Autism and Communication Disorders, or "Smart ESAC," in 12-month-old kids.
As part of her larger effort to improve early detection, she also has developed two online resources to help families and health care providers identify signs of typical child development as well as possible red flags.
"Parents often focus on their children's first words, without realizing all of the important communication milestones leading up to that," Wetherby said. "Our team is working to raise awareness about early indicators that can show whether development is on track."
The FIRST WORDS® Project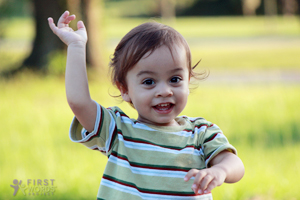 Copyright © 2016 Florida State University. All rights reserved. Reprinted with permission.
Wetherby and her team designed the FIRST WORDS Project

to help families learn what it takes for children to learn to talk. The website highlights 16 common gestures most children learn to use by age 16 months. Nodding the head, clapping hands, and showing and pointing to objects—all of these are important milestones toward using words and developing more advanced language skills that predict academic success.
The website also features video clips with examples of toddlers reaching developmental milestones in related areas, including play, emotional regulation, social interaction, and self-directed learning.
The website may be helpful both for families with typically developing children and children with ASD or developmental delays.
Autism Navigator®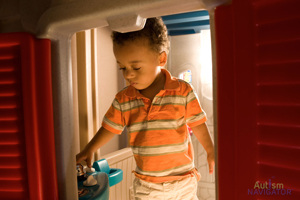 Copyright © 2016 Florida State University. All rights reserved. Reprinted with permission.
Wetherby's second resource, Autism Navigator

, provides focused information about ASD. The website has an extensive video glossary with clips of toddlers at 18 to 24 months of age showing behaviors that are hallmarks of ASD, alongside video clips of typically developing toddlers in similar settings. These videos may help parents and health care providers distinguish between sometimes subtle behavioral differences and identify children who may benefit from ASD screening.
The website also offers online training to support families and professionals. For example, "About Autism in Toddlers" discusses the key diagnostic criteria for ASD and the value of early intervention. The "How-To Guide for Families" suggests strategies for parents to use in everyday activities that can support their child's learning. Additional professional development courses are available for primary care providers, early intervention providers, and students.
"Early diagnosis and intervention can change the trajectory for many children on the spectrum," said Dr. Wetherby. "We hope that these resources will provide good information to the public and also encouragement for families, so that if they have a child with autism, they'll realize there's help."
More Information from NICHD
A-Z Topics:
Division of Extramural Research: Intellectual and Developmental Disabilities Branch (IDDB)
Related News and Spotlights:
Originally Posted: April 14, 2016