New Annual Report Highlights the Research and Achievements of DIR Researchers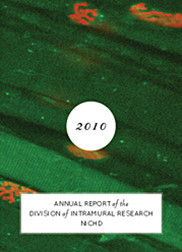 Zebrafish vasculature
Microscopic imaging
Cell biology
Neuroendocrine cells
Pediatric endocrinology
Genomic imprinting
Drosophila embryonic development
Reproductive genetics
What do all these topics have in common? They are but a few of the many subjects described in the newly released 2010 DIR Annual Report that are currently under study within the diverse portfolio of the DIR.
"We invite you to look through the report and review the most recent publications of investigators in each of our laboratories," said Constantine A. Stratakis, M.D., D(med)Sci., Acting Scientific Director of the NICHD and head of DIR. "Each of our investigators was drawn to science as a way to probe the unknown, to ask new questions, to push for discoveries that may transform human health and our understanding of this world. Each one has a productive program to describe and many unique stories to share. The report also documents the extent of collaborations of DIR PIs [principal investigators]—across our own programs, across other NIH Institutes, and internationally."
In addition to accounts from PIs and their teams, the Report also includes descriptions of the Division's clinical research trials on topics ranging from pediatric endocrinology and obesity to medical biophysics and novel imaging techniques and highlights of notable publications from DIR scientists during the last year.
Through its Office of Education and its accredited clinical training programs, the Division also supports the scientific and academic development of fellows, trainees, and students at all levels of their education. These training activities are outlined in the Office of Education section of the DIR Annual Report and in the Report's descriptions of each clinical training program.
The 2010 DIR Annual Report illustrates the impressive accomplishments that result when dozens of PIs, more than 350 trainees, and approximately 1,200 staff all work toward the same goal of improving human health.
For more information, select one of the links below:
Originally posted: April 1, 2011