New Publication Honors the Past and Looks Toward the Future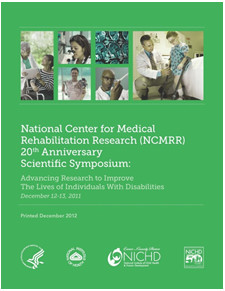 Congress established the National Center for Medical Rehabilitation Research (NCMRR) in 1991 to provide a focal point for medical rehabilitation research across the NIH and the federal government. Since then, the NCMRR has supported research advances to improve the lives of people with disabilities, from high-tech prosthetics to potential new treatments and therapies.
On December, 13, 2011, the NICHD collaborated with the Foundation for the NIH to host a scientific symposium to commemorate the 20th anniversary of the NCMRR and to provide a forum for discussions of the Center's history and accomplishments.
The proceedings from the anniversary symposium are available on the NICHD website and in a publication. The proceedings recount the establishment and early years of the NCMRR and highlight—through speaker presentations—the important contributions that the Center has made to the medical rehabilitation field and to improving the health and quality of life of children and adults with disabilities.
The symposium publication reviews the Center's history by sharing the perspectives of the current NCMRR director, Dr. Michael Weinrich, and others. The volume also includes remarks from a former chair of the National Advisory Board for Medical Rehabilitation Research as well as a federal historian, NIH Principal Deputy Director Dr. Lawrence A. Tabak, NICHD Deputy Director Dr. Yvonne T. Maddox, and NICHD Director Dr. Alan E. Guttmacher.
The symposium publication also features presentations from several NCMRR-supported researchers on a variety of topics, including:
Incorporating genetics into medical rehabilitation, from understanding how genetic differences are associated with clinical outcomes to developing genetic therapies that can reduce the severity of Duchenne's muscular dystrophy
Applying detailed knowledge about how muscle fibers work to improve outcomes in patients receiving tendon transplants
Solving gait and posture problems using biomechanical modeling
Engineering new devices for neurological rehabilitation, such as brain–machine interfaces for patients with paralysis
Using computerized testing to develop sensitive and reliable measures of patient-reported health outcomes
Analyzing patterns of health care use and outcomes to guide policymakers who are considering new health care laws and regulations
Helping inventors and entrepreneurs in academia take promising rehabilitation technologies from the bench to the marketplace
For more information on the NCMRR and the symposium publication, select one of the following links:
Originally Posted: January 11, 2013