Experts plan clinical trial to test treatments for withdrawal syndrome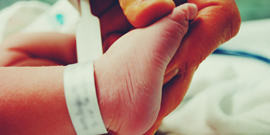 Stock image of newborn.
---
The National Institutes of Health is funding a new study to evaluate treatment options for newborns with opioid withdrawal syndrome, a condition caused by exposure to opioids during pregnancy. Currently, health care providers in the United States lack standard, evidence-based treatments for neonatal opioid withdrawal syndrome, despite states reporting more cases in recent years. The study, called Advancing Clinical Trials in Neonatal Opioid Withdrawal Syndrome (ACT NOW), aims to inform clinical care of these infants.
ACT NOW is funded by NIH's Eunice Kennedy Shriver National Institute of Child Health and Human Development (NICHD) and the NIH Office of the Director's Environmental Influences on Child Health Outcomes (ECHO) Program.
Opioids are a class of drugs commonly prescribed for pain relief. Prescriptions for these drugs have quadrupled since 1999 in the United States, putting more reproductive-age women at risk of developing opioid use disorder. Use of these drugs during pregnancy can affect the health and well-being of women and lead to withdrawal symptoms in newborns. Symptoms often include tremors, excessive crying, sleep deprivation and swallowing difficulties.
"Public health and research communities cannot overlook the opioid epidemic's effects on pregnant women and their infants," said NICHD Director Diana W. Bianchi, M.D. "ACT NOW will supplement research on opioids and pregnancy outcomes by addressing critical gaps on how best to treat and manage opioid withdrawal syndrome in newborns."
The study is a collaboration between NICHD's Neonatal Research Network, which has more than 30 years of experience designing and implementing clinical trials involving infants, and multiple components of ECHO, including the Institutional Development Award (IDeA) States Pediatric Clinical Trials Network. The IDeA network focuses on rural and medically underserved communities, and many of the states within the network are reporting a higher incidence of opioid withdrawal syndrome among newborns.
"This project will allow researchers to evaluate the impact of neonatal opioid withdrawal syndrome across the country and to develop a multi-site clinical trial in areas hit hard by the opioid crisis," said Matthew W. Gillman, M.D., ECHO director.
ACT NOW will evaluate the risk and severity of neonatal opioid withdrawal syndrome using clinical assessment tools and a variety of laboratory methods. It also will develop research protocols. The study is one part of a needed effort to find and implement best practices for treating infants with opioid withdrawal syndrome.
ACT NOW includes collaborators from NIH's National Institute on Drug Abuse, National Institute of General Medical Sciences, and National Institute of Neurological Disorders and Stroke.
###
About the Eunice Kennedy Shriver National Institute of Child Health and Human Development (NICHD): NICHD conducts and supports research in the United States and throughout the world on fetal, infant and child development; maternal, child and family health; reproductive biology and population issues; and medical rehabilitation. For more information, visit NICHD's website.
About the Environmental Influences on Child Health Outcomes (ECHO) Program: ECHO is a nationwide research program designed to understand the effects of a broad range of early environmental influences on child health and development. For more information, visit ECHO's website.
About the National Institutes of Health (NIH): NIH, the nation's medical research agency, includes 27 Institutes and Centers and is a component of the U.S. Department of Health and Human Services. NIH is the primary federal agency conducting and supporting basic, clinical, and translational medical research, and is investigating the causes, treatments, and cures for both common and rare diseases. For more information about NIH and its programs, visit http://www.nih.gov.