NICHD launches initiative for plus-size moms-to-be and their healthcare providers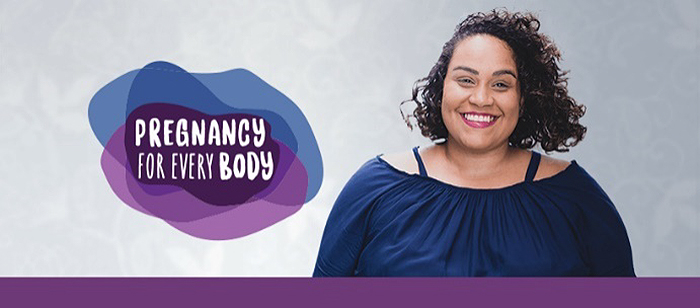 Pregnancy for Every Body, a new initiative from NICHD's National Child & Maternal Health Education Program (NCMHEP), educates plus-size pregnant women about healthy pregnancy and the importance of working with a healthcare provider to develop a pregnancy plan.
Research suggests that obesity during pregnancy can increase health risks and may affect the outcomes for mothers and babies. Some of these health risks are immediate, such as pregnancy complications, birth defects, and difficulties with delivery. Other risks—such as increased lifetime risk for metabolic syndrome among moms and higher risk of asthma among children—arise later in life. However, with regular prenatal care and monitoring by a healthcare provider, most plus-size women can have healthy pregnancies and healthy babies. Women and their providers need to work together to help ensure the best outcomes. 
The initiative provides tools and resources to help educate plus-size women about factors beyond obesity that play a role in healthy pregnancy and to encourage them to have honest discussions with providers. It also emphasizes the importance of making an action plan for healthy pregnancies, safe deliveries, and healthy babies.
"We want plus-size women to feel empowered and knowledgeable about their pregnancies," said Triesta Fowler, M.D., coordinator of NCMHEP and its Pregnancy for Every Body initiative. "They should be confident that they are equal partners with their providers in their prenatal care."
Body Mass Index (BMI): Only One Part of the Picture
One of the initiative's key messages is that a pregnant woman's BMI is only one factor in an overall healthy pregnancy plan. Her past and current health, family history, lifestyle, and other factors are equally important to her care and treatment. Pregnancy for Every Body explains BMI and how healthcare providers use it to determine health risks. Getting providers and patients to a common understanding of BMI, weight, and other factors is critical to starting honest and respectful conversations about weight and healthy pregnancy.
"Healthcare providers are trained to take the entire person into account when caring for patients," explained Dr. Fowler. "Plus-size pregnant women will learn that BMI is just a tool providers use to create an overall pregnancy plan to achieve the best outcomes."
Building the Healthcare Provider Team for Plus-size Pregnant Women
Research shows that some people, including providers, may hold an implicit bias against people who are overweight or obese. In healthcare, this bias may prevent effective communication and hinder the relationship between patients and providers. Evidence also suggests that women who feel stigmatized or judged by their providers may delay or reject getting healthcare.
"When I first sought prenatal care, my doctors didn't spend much time talking to me," Jen McLellan said. McLellan created the Plus Size Birth Blog
and Plus Mommy Podcast
to support plus-size women who are pregnant or trying to get pregnant. "It was like they had already made up their mind about me and were just checking off boxes. Once I found a size-friendly provider, my weight wasn't an 'issue'—it was just part of me and my pregnancy."
Pregnancy for Every Body offers healthcare providers ideas for starting open and respectful conversations about weight and pregnancy and tips for supporting plus-size women before, during, and after pregnancy. Provider materials also incorporate recommendations and practices from the American College of Obstetricians and Gynecologists (ACOG) that relate to overcoming bias and providing respectful care to plus-size pregnant women.
More Information
Select one of the following links to get more information about the Pregnancy for Every Body initiative and about obesity and pregnancy: