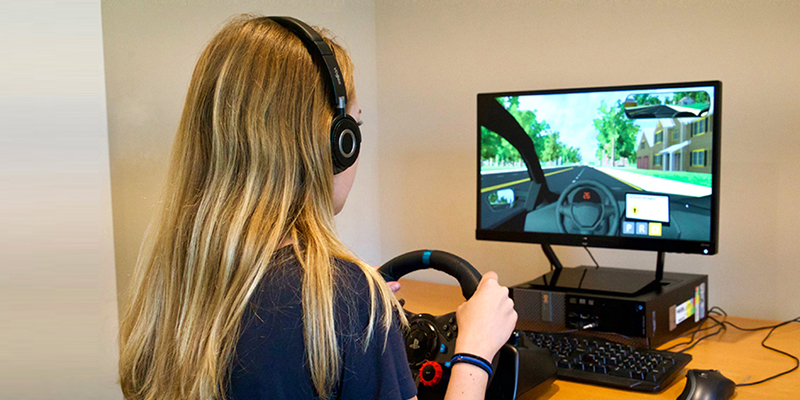 A virtual skill-based driving test can identify new drivers who are at higher than average risk for a crash within one year after they receive their licenses, suggests a study by researchers funded by the National Institutes of Health. New drivers under 25 years old were grouped into four major skills classes according to their test performances. The best-performing "No Issues" class had a crash risk 10% lower than average while the "Major Issues with Dangerous Behavior" class had a crash risk 16% higher than average. Moreover, those receiving their licenses at age 18 had a 16% higher-than-average crash risk. The authors concluded that test assessments could inform development of interventions that would reduce crash risk in less skillful new drivers.
The study was conducted by Elizabeth A. Walshe, Ph.D., of Children's Hospital of Pennsylvania, and colleagues. It appears in Pediatrics. NIH funding was provided by the Eunice Kennedy Shriver National Institute of Child Health and Human Development.
Background
In 2020, drivers aged 15 to 20 years accounted for roughly 5% of licensed drivers, but made up 12% of drivers involved in all crashes and more than 8% of drivers in fatal crashes. Crash rates for young drivers are highest in the months after they receive their license, but decline to rates comparable to those of adults after a few years.
In a previous study, the authors used a computerized driving simulator they developed to identify young drivers at risk of failing their driving test. The researchers collaborated with the State of Ohio, which offers driver license applicants the opportunity to take a test on a computerized driving simulator, the virtual driving assessment (VDA). The VDA is a 15-minute, self-guided simulated drive designed to expose drivers to the most common serious crash scenarios while assessing driving skills, such as basic vehicle control, lane position, following distance, and awareness and avoidance of hazards. New drivers who did poorly on the test were more likely to fail their road test.
The authors noted that only 20% of new drivers crash in the first year after receiving their licenses. For the current study, they investigated whether VDA results could be used to identify crash risk among youth who passed their road test and obtained their licenses. They analyzed data from more than 16,000 newly licensed drivers in Ohio, matching their VDA results with police-reported crashes three years after they had received their licenses.
The authors categorized the test results into driving skill clusters that they grouped into four major driving classes: No Issues (careful and skilled drivers), Minor Issues (minor vehicle control deficits), Major Issues (problems controlling a vehicle and a tendency to take risks), and Major Issues with Dangerous Behavior (sudden, jerky movements with reckless and risk-taking behaviors).
Results
Overall, 46% of newly licensed drivers were 16 years old and 22% were 19 to 25 years old. The No Issues Class had the lowest crash risk, at 10% below average, and the Major Issues with Dangerous Behavior Class had a risk 11% above average. Drivers licensed at 18 had a crash risk 16% higher than average.
Significance
The authors said their findings suggest that VDA test results could be used in combination with other tests of driving skills, attitudes, and behaviors to identify those at higher risk of crashing so that interventions could be developed for them before they get their licenses.
Reference
Walshe, EA, et al. Driving skills at licensure and time to first crash. Pediatrics. 2023. DOI: 10.1542/peds.2022-060817