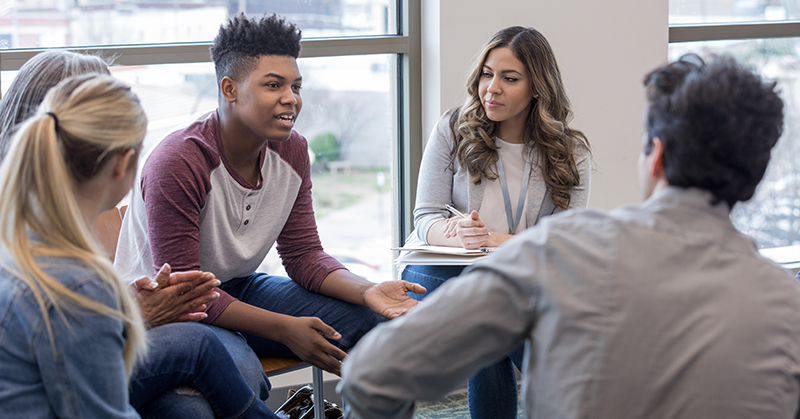 Young adults born with HIV who report average or high levels of social support are more likely to maintain viral suppression than peers with low social support, according to a study of U.S. young adults funded by the National Institutes of Health. The findings also suggest that having sufficient social support is particularly important just prior to a young adult's transition from pediatric to adult HIV care.
The work was conducted by the Pediatric HIV/AIDS Cohort Study (PHACS) network, which is funded by NIH's Eunice Kennedy Shriver National Institute of Child Health and Human Development and several other NIH institutes. The findings appear in Clinical Epidemiology.
Background
Viral suppression—when antiretroviral therapy reduces the amount of HIV in the blood to an undetectable level—benefits the health of the person living with HIV and prevents transmission of the virus. Studies have illustrated that good social support systems can help adults maintain HIV suppression, yet little is known about the impact of social support on the health outcomes of younger people with HIV.
Young adults with HIV face a transition from pediatric clinical care to adult care, a process that can provoke stress and anxiety as they become less reliant on others to manage their long-term HIV care and navigate many other changes in their lives. The PHACS researchers sought to examine the effects of social support on viral suppression before and after this transition.
The investigators measured three levels of social support among 444 young adults with perinatally acquired HIV. Participants responded to questionnaires from the NIH Toolbox
—which provides brief, easy-to-administer tests of motor, cognitive, sensory, and emotional function—assessing whether they have people in their lives to offer emotional support, to help with concrete tasks such as transportation or housekeeping, and to spend time with as friends. Data were collected at 14 clinical research sites in the United States between 2014 and 2019.
Results
Overall, young adults who reported average or high levels of support were more likely to maintain viral suppression than those with low social support. Assistance with concrete tasks, known as instrumental support, had a particularly pronounced effect just before the pediatric-to-adult care transition. More than half (51.2%) of young adults who reported average or high instrumental support before transition maintained undetectable levels of HIV, compared to only 28.9% of those with low support. However, this effect disappeared following the transition to adult care, with approximately 40% of all participants maintaining viral suppression.
Significance
The findings suggest that enhancing social support networks may promote viral suppression among young adults with perinatally acquired HIV.
"Evaluating levels of social support only takes a couple of minutes, and health care providers can prompt conversations about how to strengthen support networks, particularly for young adults who have low levels of support and are about to transition to a new care team," says the study's lead author Katherine Tassiopoulos, D.Sc., M.P.H., of the Harvard T.H. Chan School of Public Health.
The authors also note the importance of social workers and peer navigators to help connect young adults to supportive services to address mental health needs, housing support, employment, education, and reproductive health.
Next Steps
The researchers next hope to investigate how the COVID-19 pandemic has affected social support networks and viral suppression.
Reference
Tassiopoulos K et al. Association of perceived social support with viral suppression among young adults with perinatally-acquired HIV in the US-based Pediatric HIV/AIDS Cohort Study (PHACS). Clinical Epidemiology DOI: 10.2147/CLEP.S403570 (2023)