Overview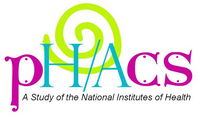 PHACS began in 2005 to address two critical pediatric HIV research questions:
What is the long-term safety of fetal and infant exposure to antiretroviral therapy (ART)?
What are the effects of perinatally acquired HIV infection in adolescents?
PHACS is funded by the NICHD Maternal and Pediatric Infectious Disease Branch, National Institute on Alcohol Abuse and Alcoholism, National Institute of Allergy and Infectious Diseases, National Institute on Deafness and Other Communication Disorders,  National Institute of Dental and Craniofacial Research, National Institute on Drug Abuse, National Institute of Mental Health, National Institute of Neurological Disorders and Stroke, and the NIH Office of AIDS Research.
PHACS is funded through a Cooperative Agreement (U01) and comprises 21 clinical sites across 12 states and Puerto Rico, a Data and Operations Center (DOC), and a Coordinating Center (CC). The DOC provides operations, design, methodological, and analytic expertise to PHACS research protocols, while the CC provides support and guidance to the PHACS Scientific Leadership Group, which helps to guide the network's scientific directions and ensure its scientific integrity. Additional oversight and coordination are provided by an executive committee and a steering committee. To maximize efficiency, PHACS has data-sharing agreements with other studies and cross-enrolls participants with non-PHACS protocols.
The overall goals of this network are the following:
Understand how HIV and its treatment affect growth and development, sexual maturation, organ function, and socialization of perinatally HIV-infected pre-adolescents, adolescents, and young adults
Acquire more definitive information on the long-term safety of ART when used during pregnancy and in newborns
Ensure a mechanism is in place to estimate the upper bounds of risk for children who were exposed to ART during maternal treatment to prevent perinatal HIV transmission
Continue the follow-up study of these populations
Topic Areas
PHACS conducts four major studies:
SMARTT, which follows HIV-negative children exposed to ART in utero or in the first months of life:

Examines the occurrence of abnormalities among these children in multiple domains
Includes more than 3,000 children who are under active follow-up
Enrolls an open cohort of approximately 300 newborns per year to allow for study of exposures to new combinations of ART
Includes a control group of approximately 200 HIV-uninfected children at 1, 3, 5, or 9 years of age born to HIV-uninfected mothers

AMP, which is examining the impact of HIV infection and treatment on pre-adolescents and adolescents:

Investigates several domains of health and development in HIV-infected and uninfected children born to HIV-infected mothers
Includes approximately 700 children and adolescents between 7 and 15 years of age
Is now closed to new enrollment

AMP UP, which continues the goals of AMP in youth 18 years of age and older by emphasizing mobile technologies for some of the follow up.
AMP Up Lite, which was created to share similar objectives with AMP Up but with less intensive data collection. AMP UP lite enrolls perinatally HIV-infected young adults.
These studies also examine the effects and risk factors related to HIV infection, antiretroviral use, and antiretroviral exposure in developing children and youth:
Neurodevelopmental, cognitive, academic, vocational, behavioral, and social outcomes
Impairment of hearing, language, and learning and other communication disorders
Substance use and mental health outcomes
Adherence to treatments and interventions
Growth, endocrinology, and bone development
Sexual maturation, gynecology, reproductive capacity, sexual health, and HIV risk behaviors
Nutrition, body composition, and tissue redistribution syndromes
Cardiovascular complications and disease risk
Genetics and epigenetics related to HIV infection, treatment, and antiretroviral exposure
Effects of maternal substance use on child outcomes
Oral health
Pulmonary complications
Renal complications
More Information