NICHD observes Men's Health Month by highlighting research and resources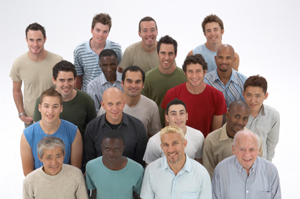 On average, men die about five years earlier than women and have higher mortality rates from some cancers and heart disease, according to the Centers for Disease Control and Prevention (CDC). It's important, then, that men talk to their health care providers about what types of preventive medical tests and activities they need to stay healthy.
Gentlemen, there is no better time to do that than right now!
This Men's Health Month
, the NICHD joins other federal agencies and organizations to highlight men's health information. There are a variety of resources to help men learn more about their health. We've shared a selection below.
The NICHD also supports research on several conditions that seem to occur more often in males:
Other federal agencies also provide a wide range of information on health topics, including those of special concern to men.
Centers for Disease Control and Prevention (CDC). The CDC has men's health material on a variety of topics related to prevention, research, and health and wellness.

Its Men's Health website includes 28 health topics important to men, including heart disease and stroke, alcohol, and workplace safety and health.
The CDC also provides information on Gay and Bisexual Men's Health.
For National Men's Health Week, the CDC provides tips on how men can live healthier and more productive lives.
 

Agency for Healthcare Research and Quality (AHRQ). The agency created a pamphlet, Men: Stay Healthy at Any Age , that provides information on screening, preventive tests, and other steps that men can take to stay healthy.
 
Office on Women's Health (OWH). The OWH offers information on men's health, with topics including:

Top health concerns for men
Tips for men for a healthy life
Mental health for men
Urinary health for men
 

National Cancer Institute (NCI). The NCI offers information on testicular cancer, the most common cancer among young and middle-aged men, as well as information on prostate cancer and male breast cancer.  
 
The National Institute of Diabetes, Digestive, and Kidney Diseases (NIDDK). The NIDDK has a range of health information for men, including information related to the urinary tract.

Many men develop bladder control problems as they get older. But urine leakage, frequent urination, or the urgent need to urinate do not have to be unavoidable parts of aging. Bladder control problems can be treated.
Men can get their health on track with regular physical activity and healthy eating habits.
Erectile dysfunction (ED) is the inability to get or keep an erection firm enough for sexual intercourse. ED can be a total inability to achieve an erection, an inconsistent ability to do so, or a tendency to sustain only brief erections.
Men with diabetes can face serious health problems such as heart attack, stroke, kidney disease, blindness, and even the loss of a toe or foot. 
 

The National Heart, Lung, and Blood Institute (NHLBI). The Institute's health topics include science-based, plain-language information related to heart, lung, and blood diseases and conditions and sleep disorders. The site provides information about heart and vascular diseases and allows you to estimate your 10-year risk of having a heart attack with their risk assessment tool and to calculate your body mass index.
 
The National Institute on Aging (NIA). NIA has a wide variety of useful, evidence-based resources. NIA men's health  information includes such topics as cancer, diabetes, hearing loss, prostate problems, and stroke.
 
The National Institute of Mental Health (NIMH). NIMH provides valuable information on men and depression.
 
The Men's Health Network. The Network maintains the Men's Health Library of information on men's health. The site also has an online booklet, Blueprint for Men's Health , that covers mental health and cardiovascular health, as well as information on chronic obstructive pulmonary disease.
Originally Posted: June 11, 2014