A look at the Gabriella Miller Kids First Pediatric Research Program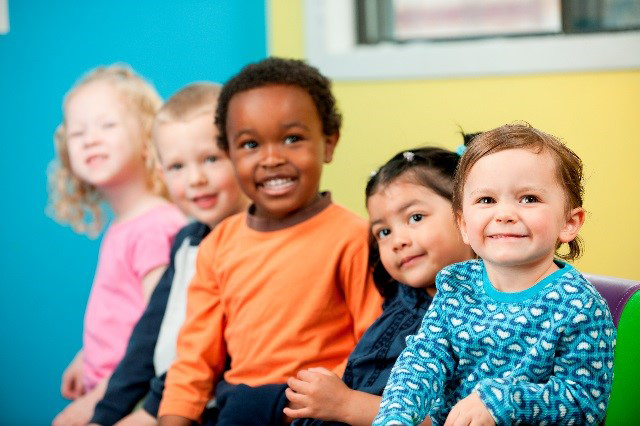 A child born with a structural birth defect—one that disrupts how a body part or organ forms or functions—has a higher risk of developing childhood cancer. Researchers aren't sure why such a link exists, but thanks to the NIH Common Fund's Gabriella Miller Kids First Pediatric Research Program, commonly called Kids First, scientists now have resources and clues to decode this connection.
The program is named for 10-year-old Gabriella Miller, a childhood cancer research advocate who died from brain cancer in 2013. Congress created the program in 2014 by passing the Gabriella Miller Kids First Research Act to support pediatric research. The Act allocated funding for the program for 10 years through the NIH Common Fund, a unique NIH program that tackles cross-cutting scientific topics. Common Fund activities rely on scientific expertise and guidance from scientists at different NIH institutes and centers. For Kids First, NICHD provides expertise on structural birth defects and plays a key role in coordinating the NIH Kids First Working Group.
As Kids First approaches its 5-year-anniversary, we highlight the program's progress and resources and look ahead to future endeavors.


Credit: Kids First, NIH
Building a Data Resource
A central focus for Kids First is developing a data resource, including DNA sequence and other data, tools, and workspaces, to help scientists better understand the underlying causes of and relationships between specific structural birth defects, such as congenital heart defects, neural tube defects, and cleft palate, and a variety of childhood cancers.
"Childhood cancer and structural birth defects are relatively rare conditions," said James Coulombe, Ph.D., the coordinator for the NIH Kids First Working Group and chief of NICHD's Developmental Biology and Structural Variation Branch. "It's difficult for one research team to collect enough cases for meaningful analyses. Kids First funds genetic sequencing for a variety of conditions—roughly 6,000 genomes a year—and makes the data from all the studies comparable, available, and reusable."
Last fall, Kids First launched its Data Resource Portal , an online platform that brings together the childhood cancer and structural birth defects research communities by providing access to large-scale data, analytic tools, and collaborative workspaces. The portal currently houses 7 Kids First datasets with over 6,000 study participants. Anyone can create a free account and access certain types of data, including diagnoses and participant demographics (Access to individual-level sequence data requires an application and approval). The portal also features a summary dashboard and a visualization tool that enables users to explore data across conditions.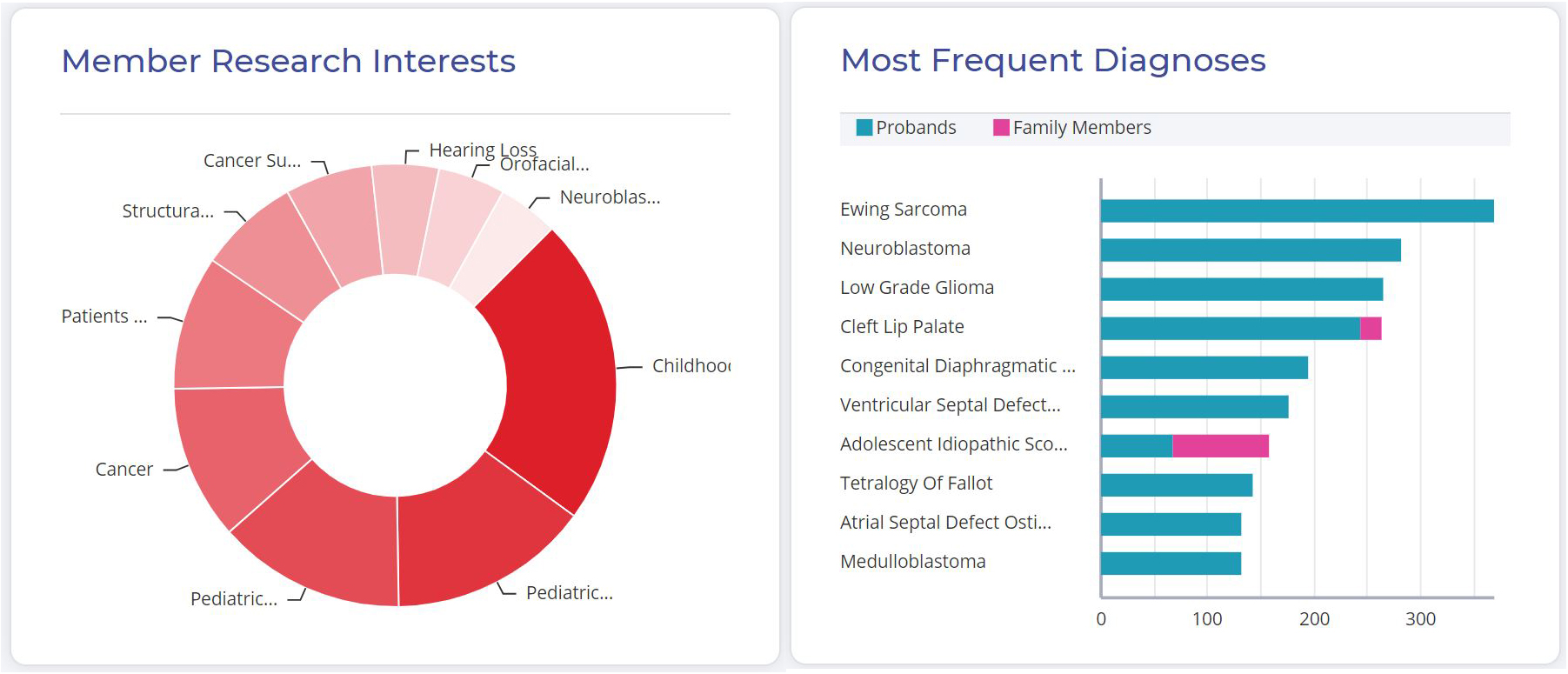 Snapshots from the summary dashboard of the Data Resource Portal.
Credit: Kids First, NIH
Kids First investments are already showing results. The first research paper using Kids First data was published in December 2018 on congenital diaphragmatic hernia (CDH), one of the most common and lethal structural birth defects. The condition occurs when the diaphragm does not form properly, displacing organs in the stomach and chest. The study team, led by Columbia University's Wendy K. Chung, M.D., Ph.D., found a new CDH-causing gene called MYRF, revealed genetic overlap between CDH and certain developmental disorders, and identified biological processes important for the development of the diaphragm. Such details will help researchers better diagnose and possibly prevent conditions like CDH. Additional papers on Kids First data are in progress.
Kids First leaders and researchers are excited about the program's progress and future endeavors. As more data becomes available through the Data Resource Portal and more researchers use the data to make new discoveries, Kids First can achieve even more over time.
Making New Connections
Kids First is all about making connections, not only in linking structural birth defects and childhood cancers, but also in connecting researchers to valuable data and to each other. The program recently established collaborations with other NIH-wide efforts, and program leaders are exploring other opportunities.
For example, the program is now working with the INCLUDE (Investigation of Co-occurring conditions across the Lifespan to Understand Down syndromE) Project, which aims to address the quality of life and health needs of people with Down syndrome. Understanding why someone with Down syndrome is more susceptible to certain conditions, such as structural birth defects and cancer, can provide new insights and potential treatments for everyone. Kids First and the INCLUDE project are collaboratively supporting genetic sequencing of people with Down syndrome who also have congenital heart disease, acute lymphoblastic leukemia (a type of blood cancer), or acute myeloid leukemia (another type of blood cancer).
Kids First also is collaborating with the NIH Common Fund's Knockout Mouse Phenotyping Program (KOMP2) to create and study mouse models based on Kids First datasets. They hope these efforts will enable research on the role of specific genetic variants in certain diseases or conditions.
"When analyzing Kids First data, you may identify hundreds of genetic variants that are associated with a disease," explained Dr. Coulombe. "To figure out what's going on, you can then use an animal model to understand what these variants are doing and when and where they are important during development."
Dr. Coulombe's branch has funded research on model organisms for decades with promising results. Last year, a study supported by the branch was called the "2018 Breakthrough of the Year"  by Science magazine. The researchers created a technique to visualize how each cell in a zebrafish brain developed over time. This method may allow researchers to study precisely how organs and appendages develop and how genetic variations could lead to structural birth defects or other health problems.
"We are confident that sharing datasets and providing analytic tools in a collaborative environment through Kids First will provide a strong foundation to empower pediatric research and ultimately improve the quality of life for patients and families," said Dr. Coulombe.