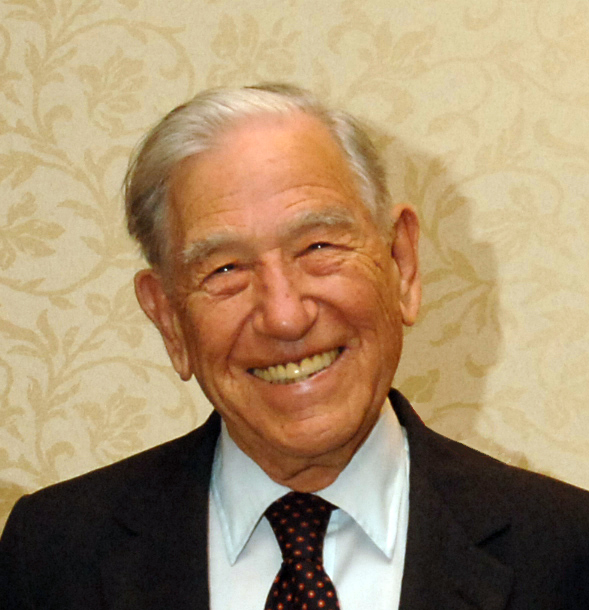 Stanley Cohen, Ph.D., a former researcher at Vanderbilt University and longtime NICHD grantee, died February 5, 2020, at the age of 97.
Cohen's work on growth factors—naturally occurring proteins that stimulate cells to divide and form tissues—sparked a new field of science. Each growth factor has its own target receptor, a special site on the cell surface where only that growth factor will bind. Once in place, the growth factor-receptor complex initiates signaling cascades that cause the cell to start dividing, creating new cells and tissues. Today, research on growth factors, their receptors and their activity provide potential treatment targets for cancer, severe burns and other diseases.
Cohen earned his bachelor's degree in biology and chemistry in 1943 from Brooklyn College, which he noted he could only attend "because of its no-tuition policy." He later received his master's degree in zoology from Oberlin College and his doctorate in biochemistry from the University of Michigan.
Following a brief time at the University of Colorado, he moved to Washington University, where he did pioneering work with Dr. Rita Levi-Montalcini. Together they isolated nerve growth factor (NGF), which enhances the growth of nerve cells, and created antibodies that inhibited NGF's activity.
Cohen became an assistant professor of biochemistry at Vanderbilt University in 1959. He stayed at Vanderbilt for more than 40 years and received funding from NICHD for most of his career, from 1964 until 1999.
At Vanderbilt, Cohen discovered, isolated, purified and sequenced epidermal growth factor (EGF), which stimulates the growth of epithelial and similar cells. He later identified EGF's target receptor and discovered its mechanism of action, specifically signaling cascades that led to cell growth. Researchers began targeting growth factor receptors to enhance or inhibit these cascades to treat breast and other cancers, corneal ulcers and severe burns. Cohen discovered 20 other growth factors and developed a method of preventing necrotizing enterocolitis in a rodent model.
In 1986, Cohen and Levi-Montalcini earned the Nobel Prize in Physiology or Medicine and the Albert Lasker Basic Medical Research Award for their growth factor discoveries. Cohen received the National Medal of Science the same year. He was elected to the National Academy of Sciences in 1980 and the American Academy of Arts and Sciences in 1984. He retired from Vanderbilt in 2000 as the Distinguished Professor Emeritus of Biochemistry.
NICHD recognized Cohen in 2007 for his many discoveries on growth factors, including his NICHD-funded discovery of EGF, with a Hall of Honor Award. This award program, which ran from NICHD's 40th anniversary in 2003 through 2010, honored individuals who exemplified scientific curiosity and service to others.
Cohen had been living at a retirement community in Nashville for several years. He is survived by his wife, his two children and stepchild from his first marriage and two grandchildren.