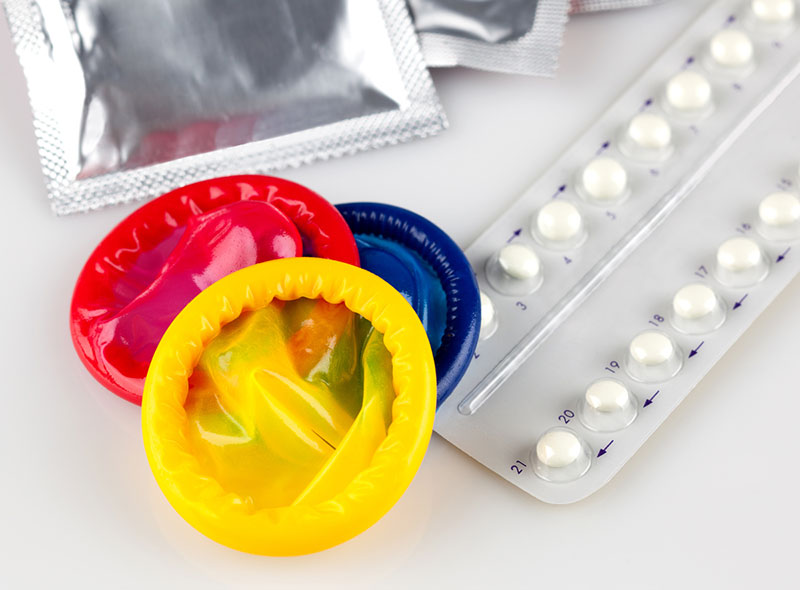 When choosing a contraceptive method, individuals and couples may consider its effectiveness, the side effects it may cause, and whether it is accessible, affordable, and convenient. But while there are many short- and long-acting female contraceptives on the market, options for men are limited to condoms and vasectomies.
A safe, highly effective, reversible method of male contraception would fill an important public health need. Additionally, multipurpose prevention technologies (MPTs)—products that prevent both pregnancy and sexually transmitted infections (STIs)—would increase sexual and reproductive health options for both women and men. NICHD supports a broad range of contraceptive research, including efforts to develop male contraceptives and MPTs.
Male Contraceptives
For example, Nestorone®/Testosterone (NES/T) was developed through a collaboration between NICHD and the Population Council
. It is a hormone-based gel that the male partner applies daily to his shoulder blades, reversibly blocking sperm production while maintaining sexual drive and function. NES/T is the first birth control product designed for males that has progressed past early-stage clinical trials.
To date, 112 couples have completed the one-year efficacy stage of an ongoing Phase IIb study evaluating NES/T. Findings from the study, conducted by NICHD's Contraceptive Clinical Trials Network, have been extremely promising so far, with NES/T showing efficacy comparable to that of long-acting reversible female contraceptives—the most effective non-surgical methods currently available for preventing pregnancy. Although the study will take two more years to complete, the investigators intend to perform an interim analysis to begin the process of planning a Phase III clinical trial, the pivotal evaluation required for FDA review and potential approval of NES/T.
NICHD also supports the development of male contraceptives that could be taken as needed shortly before sex. Two such potential on-demand contraceptives target the sperm proteins soluble adenylyl cyclase (sAC) and epididymal protease inhibitor (EPPIN). Researchers at Weill Cornell Medicine found that a single dose of a sAC inhibitor rendered male mice infertile for hours, with normal fertility returning the next day. They are currently developing sAC inhibitor formulations suitable for clinical studies. Separately, investigators at Eppin Pharma, Inc., developed EP055, which reduces sperm motility by binding to EPPIN on the sperm surface. Intravenous EP055 showed promise in a preclinical study, and the company is working to develop oral versions for use in a Phase I clinical trial.
Multipurpose Prevention Technologies
With NICHD support, researchers at Boston University aim to develop an on-demand female MPT product that prevents pregnancy and protects both partners against STIs. They and collaborators created a vaginal film containing an anti-sperm antibody called human contraceptive antibody (HCA). Recent findings from a Phase I study indicate that the film, dubbed ZB06, is safe and shows promise as a contraceptive. Additional data suggest that HCA can trap pathogens in sperm agglutinates—clumps of sperm that form in the presence of the antibody—potentially preventing transmission. The Boston University researchers ultimately plan to combine ZB06 with a vaginal film that delivers antibodies against HIV and herpes simplex virus 2. They also are investigating an HCA-containing penile gel as a candidate for male contraception. 
Another NICHD-supported project is evaluating a potential contraceptive vaginal ring that also prevents HIV acquisition. The ring is designed to deliver the antiretroviral medication dapivirine and the hormonal contraceptive levonorgestrel over three months of continuous use. A small Phase I study found that the ring delivered the two drugs at levels predicted to block HIV acquisition and ovulation. However, many participants reported that the ring came out either partially or completely at least once. Researchers made changes to the ring to prevent these expulsions, and enrollment in a Phase I study to evaluate reformulated versions is now underway. 
I look forward to continued progress from these and other studies focused on developing innovative contraceptive methods to expand the choices available for individuals and couples. People need safe, effective, and desirable options that fit with their lifestyles.