Overview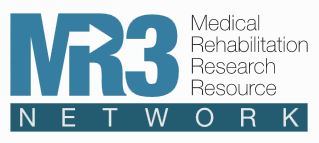 The MR3 Network is made up of six resource centers nationwide whose mission is to support rehabilitation researchers. The network is supported by NICHD's National Center for Medical Rehabilitation Research (NCMRR) with additional support from the National Institute of Neurological Disorders and Stroke, the National Institute of Biomedical Imaging and Bioengineering, the National Institute on Deafness and Other Communication Disorders, the National Center for Complementary and Integrative Health, and the National Institute for Nursing Research.
The MR3 Network builds research infrastructure in medical rehabilitation—a key component of the NICHD mission—by providing investigators with access to expertise, courses and workshops, technologies, and other collaborative opportunities from allied disciplines such as neuroscience, engineering, applied behavior, and the social sciences.
The MR3 Network comprises six resource centers around the United States:
These centers provide access to expertise, technologies, and resources to promote multidisciplinary collaborations, develop research opportunities, and enhance the capability of medical rehabilitation investigators to understand mechanisms of functional recovery, develop therapeutic strategies, and improve the lives of people with disabilities.
Opportunities facilitated by the network include research training, consultations, core services, on-site sabbaticals, pilot project funding, and educational opportunities.
History
The MR3 Network grew out of a 1999 NCMRR initiative to support four regional research networks. Each network was built upon collaboration among three institutions in the geographic region to provide outreach, focus scientific expertise, transfer information, and improve research capacity in medical rehabilitation. Based on the success of the initial regional networks, the NCMRR set about to renew and reinvent the program in 2005 by focusing on providing access to key research expertise and technologies. The reinvented Network supported research cores in biomedical, behavioral, and psychosocial sciences relevant to current topics in medical rehabilitation research. In 2010, the Network was expanded further to support research across the rehabilitation research spectrum. NIH committed to providing approximately $30 million over a 5-year period to fund the network in 2011.
More Information