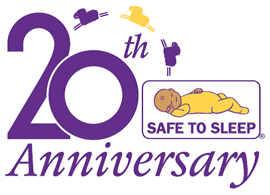 NICHD Director Dr. Alan Guttmacher recently published an article in the Huffington Post about the Institute's efforts to reduce the risk of Sudden Infant Death Syndrome (SIDS) and promote safe infant sleep.
In the article, he highlighted the NICHD's research activities related to SIDS and the contributions of the NICHD-led Safe to Sleep® campaign, which recently celebrated its 20th anniversary. He also talked about how SIDS has affected his own family.
Read the article: 20 Years of Protecting Infants During Sleep.

More Information from NICHD
Safe to Sleep® campaign website
Previous Spotlights on SIDS and Other Sleep-Related Causes of Infant Death:
Related A-Z Topics:
Related Podcasts:
Originally Posted: November 13, 2014