The NICHD's Back to Sleep campaign launches an online continuing education activity for pharmacists
Please note: The CE is no longer available.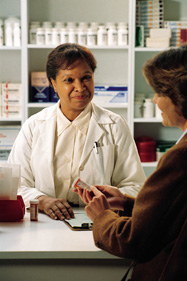 Pharmacists play a unique role in providing personalized health care. In many communities, they do much more than just fill prescriptions—they also provide health care and health advice to parents, children, and families on topics ranging from prenatal vitamins to maintaining a healthy weight to infant care. Sometimes, people see and interact with the pharmacist more than they do with any other health care provider.
To take advantage of this personal connection between pharmacists and their patients, the NICHD partnered with several pharmacist organizations and with First Candle to design a continuing education (CE) activity about sudden infant death syndrome (SIDS). The online CE activity gives pharmacists the information and tools they need to easily and effectively explain SIDS and SIDS risk reduction to parents, caregivers, and families.
Sudden Infant Death Syndrome (SIDS) Risk Reduction: A Continuing Education Activity for Pharmacists is accredited by the Maryland Pharmacy Continuing Education Coordinating Council (CECC), which is approved by the Accreditation Council for Pharmacy Education as a provider of continuing pharmaceutical education for pharmacists.
The online CE activity, which falls into the Knowledge-based, General Pharmacy category, provides an "anytime, anywhere" way for busy pharmacists to receive 1.25 CE credit hours or 0.125 CE units (CEUs) for completing the activity. Because the pharmacy can get pretty busy during the day, the online CE remembers users' progress and returns them to where they left off. Pharmacists can access the online CE from any location, and there is no waiting—They can submit their work online and receive their credit statement in just a few minutes.
This CE program was created in collaboration with the following partners:
American Association of Colleges of Pharmacy
American College of Clinical Pharmacy
American Society of Health System Pharmacists
National Alliance of State Pharmacy Associations
National Association of Boards of Pharmacy
National Association of Chain Drug Stores
National Community Pharmacists Association
First Candle
As part of its role in this collaboration, First Candle will be attending various pharmacist association meetings and conferences, where staff will conduct in-person training on SIDS. This live CE activity is also accredited by the CECC for 1.25 CE credit hours or 0.125 CEUs.
This CE activity for pharmacists continues the NICHD's efforts, through the Back to Sleep campaign, to reach out to health care providers with the most current information about SIDS and SIDS risk reduction. Health care providers are a trusted source for health information, and they often have direct access to parents and families. In 2005, the NICHD released a booklet for health care providers that provided evidence-based answers to common questions about SIDS. More recent efforts have focused on nurses, with the release of a CE booklet for nurses in 2006 and then the launch of the online CE for nurses in 2010. The NICHD plans to add to its CE opportunities for health care providers, including health workers who provide care in Tribal communities, in the future.
The newly released online module for pharmacists will help to further disseminate safe sleep recommendations and to extend the reach of the Back to Sleep campaign. As more pharmacists become aware of the safe sleep recommendations and share these messages with patients and families, they can help parents and caregivers save infant lives.
For more information, select one of the links below:
Access the online CE activity for pharmacists
Previous NICHD Spotlights on SIDS:
NICHD A-Z Topics
Originally posted: August 10, 2011