We Can!® seeks your help in selecting its video contest winner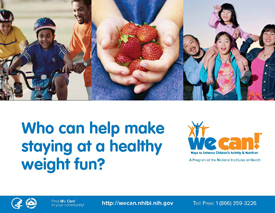 Statistics on overweight and obesity in the United States, especially among young people, are a cause for concern. The most recent data from the National Health and Nutrition Examination Surveys (2007-2008) indicate that about 17 percent of children ages 2 to 19 years are obese and that an additional 15 percent are considered overweight. Overweight and obese young people are at risk for a variety of health problems, including type 2 diabetes, and high blood pressure.
The NIH launched We Can!® (Ways to Enhance Children's Activity and Nutrition) to give parents, caregivers, and entire communities a way to help children 8 to 13 years old stay at a healthy weight. The NICHD joins the National Heart, Lung, and Blood Institute (NHLBI), the National Cancer Institute (NCI), and the National Institute of Diabetes and Digestive and Kidney Diseases (NIDDK) to support We Can! Hundreds of We Can! community sites and national or corporate partners are now committed to empowering parents and caregivers to make a difference in the activity and nutrition of young people across the United States.
To celebrate its 5th anniversary, We Can! recently launched an online contest, inviting all registered We Can! sites and partners to create a video that highlights one or more of the three behavioral goals of the program: healthy eating, increased physical activity, and reduced screen time. The site that submits the winning video will win $1,500.00 and a chance to have their video prominently displayed on the We Can! Web site, Facebook page, and YouTube channel.
The entries are in—now it's time to vote for your favorite! To vote, follow these instructions:
Visit the We Can! Facebook page .
"Like" We Can! on Facebook.
Click on the We Can! video tab.
View all nine video contest entries by double clicking on their icons.
Vote for your favorite video by clicking "Like." Please judge the videos using the following criteria:

Message and appropriateness to the key themes of We Can!: healthy eating, increased physical activity, and reduced screen time.
Creativity and originality
Overall presentation

Share the videos with your friends and family and encourage them to vote.
Better hurry—the voting period ends on August 20, 2010. The winning We can! video will be announced in September 2010.
For more information, select one of the following links:
Originally posted: August 5, 2010