Federal Forum Releases 10th Report on the Well-Being of U.S. Children and Youth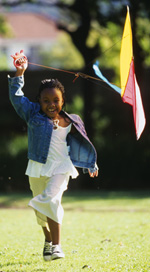 In 2006, there were 73.7 million children from ages 0–17 in the United States, representing 25 percent of the population. Knowing the characteristics of this important segment is important not only for the country's well-being today, but also for its vitality in the future.
For this reason, the Federal Interagency Forum on Child and Family Statistics issues America's Children: Key National Indicators of Well-Being, a national report card on America's most valuable resource—our children and youth. The report both summarizes national indicators of well-being and monitors changes in these indicators over time.
This year's America's Children report shows that the nation's children and youth have advanced on some issues, but have fallen behind in other areas. For example, the percentage of children who live with at least one working parent increased, but so did the number of infants born at low birth weight, which is a risk factor for a variety of problems. You can read all of this year's findings at Report Shows Gains, Setbacks for Nation's Children.
The Federal Interagency Forum on Child and Family Statistics includes 22 federal agencies, including the NICHD, that are involved in research and activities related to children and families. The NICHD has been a member of the Forum since it was established in 1997 to foster coordination and collaboration, and to enhance and improve consistency in the collection and reporting of federal data on children and families.
For this, the report's 10th anniversary, Forum members added two new sections—Physical Environment and Safety and Health Care—and nine new indicators: child maltreatment, oral health, drinking water quality, lead in the blood of children, child injury and mortality, adolescent injury and mortality, sexual activity, college enrollment, and asthma. Other topic areas include family and social environment, economic circumstances, health care, physical environment and safety, behavior, education, and health.
For more information on America's Children, visit the following resources:
America's Children: Key National Indicators of Well-Being 2007
Originally Posted: July 13, 2007