Moms' Mental Health Matters Initiative Addresses Anxiety, Depression Around Pregnancy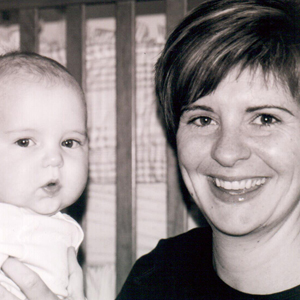 The thing that Adrienne Griffen remembers about her second pregnancy was how smoothly it was going—until labor and delivery.
Complications prompted a stress-inducing rush for the operating room where doctors performed an emergency cesarean section. When she went home, still feeling the stress of the labor and birth, her new baby cried a lot and needed nearly constant attention.
Her husband and extended family were supportive, but caring for a toddler and an infant on so little sleep left her anxious, angry, and irritable.
"I was very sleep deprived," she said. "I was getting up every 2 or 3 hours. I started going crazy from lack of sleep." New parents commonly feel overwhelmed or face unexpected stress in caring for newborns. However, some women feel anxious and irritable—barely able to keep their heads above water. They begin to have negative feelings that persist, which is a cause for concern.
"I began to think, 'I want to give this baby away and go back to my old life.' It shakes women to the core," Griffen said. "You think, 'I'm a bad mother; I'm a monster.' For some women, it completely rocks their world." Griffen soon realized she was dealing with more than the baby blues, but help was hard to find.
Moms' Mental Health Matters
Countering the stigma and isolation often felt with depression and anxiety disorders around pregnancy is central to a new initiative launched in May, Moms' Mental Health Matters. Developed by the NICHD's National Child & Maternal Health Education Program (NCMHEP), the initiative brings together representatives from federal agencies, health provider associations, and nonprofit organizations. NCMHEP is also partnering with Postpartum Support International

and Postpartum Progress

.
"Doctors often use the term 'postpartum depression,' but it is more than just depression, and it is not just postpartum," said Triesta Fowler M.D., Coordinator of the NCMHEP. "Many women describe feelings of anxiety, anger, worry, or unhappiness during pregnancy or after the baby is born. These feelings are real and they are common. With the right help, they can also be treated."
Moms' Mental Health Matters provides resources for moms-to-be and new mothers experiencing postpartum depression, as well as guidance for partners, family members, and friends who want to know how to help. The initiative also aims to raise awareness among nurses, obstetricians, pediatricians, and other health care providers. Materials are available in both English and Spanish.
Griffen soon realized that her experience highlighted the need for support and services. She remembered wanting someone to explain to her what was going on. "Pregnant women make trips to the obstetrician to ensure a safe birth and to the pediatrician to ensure a healthy child, but nobody is in charge of moms' mental health," she said.
Moms' Mental Health Matters helps address that gap, providing concerned loved ones, providers, and new moms or mothers-to-be the information and resources to identify concerns, validate their experience, and get help.
Surviving Postpartum Depression
Up to 13% of women in the United States have reported experiencing frequent bouts of depression after childbirth. Researchers suspect many other cases go undiagnosed.
Pregnant women and new moms may experience extreme mood swings, difficulty caring for themselves or their baby, an inability to enjoy life, a feeling of just going through the motions, and changes in sleep or eating habits.
When a woman is depressed or anxious during pregnancy or after birth, she may find it hard to bond with the baby and respond to the needs of her older children.
Some women may experience more severe mental health conditions, such as obsessive-compulsive disorder, psychosis, and post-traumatic stress disorder.
Although anxiety and depression during and after pregnancy are shared by many women, they aren't often recognized or acknowledged. Many women experiencing these emotions feel utterly alone.
As Griffen recalled, her early efforts to reach out for help ended in frustration. The options offered by her obstetrician felt limited. She tried to connect with support groups but could not find any. When she sought help from a counselor, she was warned that her children could be removed from her home. Her neighbor, who had just given birth to her second child, was in a state of bliss, "so I couldn't talk to her," Griffen said.
Ultimately, it was her husband who found a sympathetic and knowledgeable psychiatrist who prescribed an hour of exercise daily, at least 5 hours of uninterrupted sleep a night, and an antidepressant. Within a week, Griffen said, she felt better.
After her experience with postpartum depression, Griffen resolved to help other women like herself. She said "I had a really hard time finding help, so I decided to do something about it."
Since 2005, Griffen has been leading support groups and providing information and outreach to new mothers. She co-founded and became the executive director of Postpartum Support Virginia

, which offers information and support for mood and anxiety disorders around pregnancy.
More Information
For more information about depression and anxiety around pregnancy and birth and the resources available through the Moms' Mental Health Matters initiative, select one of the following links: