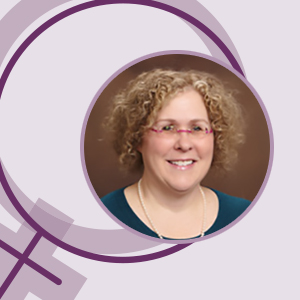 A pelvic floor disorder (PFD) occurs when the muscles and connective tissue of the pelvis weaken or are injured. The most common types of PFDs are urinary incontinence (leaking of urine), fecal incontinence (leaking of stool), and pelvic organ prolapse (a condition in which the pelvic organs descend into the vagina).
In 2001, NICHD established the Pelvic Floor Disorders Network to encourage collaborative research on PFDs and to improve patient care. Medical officer and gynecologist Susan Meikle, M.D., M.S.P.H., from NICHD's Gynecologic Health and Disease Branch, oversees the network. 
How far have we come in the treatment of pelvic floor disorders?
PFDs severely affect a person's quality of life, although the conditions still are not usually discussed in the primary care physician's office—or even in the gynecologist's office—unless the disorder is evident during a physical exam.
The field of gynecology has evolved, especially in the last 10 years, to recognize issues around PFDs. Female pelvic medicine and reconstructive surgery was approved as a subspecialty in gynecology only a few years ago. That's an acknowledgement of the severity and the high prevalence of PFDs in the United States and the need for better scientific evidence to find and develop new treatments. To me, this is a fundamental change in gynecology. Developing better treatments for PFDs is important for women from the childbirth years through the elder years, because we know these conditions increase with age.
There's a real collaborative effort between the professional and scientific organizations bringing attention to the issue. There is a big effort to allow women the opportunity to discuss their conditions and to have options from an expert team of caregivers. Many women still don't know there are treatments available to them.
The downside is that the research field is still small. We need to recruit more basic scientists and specialists from all sorts of professions, because these problems cut across medical and scientific disciplines.
Because many of the symptoms of pelvic floor disorders are embarrassing, women may put off seeking treatment. What suggestions do you have for women in terms of managing symptoms and seeking treatment?
I suggest that if someone thinks they have a condition—urinary incontinence, fecal incontinence, or pelvic organ prolapse—that they seek treatment earlier rather than later. In some cases, earlier treatment can be more effective.
Often, the women who are affected don't realize how much the conditions are managing their lives, and they're avoiding telling anyone because they don't think there's a treatment. Recently, a woman I know told me her mother had untreated pelvic organ prolapse. I sent information about possible surgical treatments investigated in the Operations and Pelvic Muscle Training in the Management of Apical Support Loss

trial. She took it to her mom, who was stunned there could be a treatment. She saw a doctor soon after that to get help.
There is good information about all three conditions on the NICHD website and on the websites of some of the professional societies like the American Urogynecologic Society

and International Urogynecological Association

.
Are men susceptible to some of these conditions?
Men can have urinary and fecal incontinence. Most male urinary incontinence is due to prostatectomy, a prostate cancer treatment that entails partial or complete removal of the prostate. It's a pretty common surgery. Men have the same frequency of fecal incontinence as women. Men do not have pelvic organ prolapse.
What future research directions on pelvic floor disorders do you find particularly promising?
We just started doing more research on fecal incontinence. Nearly 3% of the population is affected by fecal incontinence.1 That's significant, because the condition can keep people housebound and out of the community.
We've made inroads on research, beginning with a study that uses pelvic floor exercises and an anal manometer, a tube to measure the strength of the anal sphincter muscles that hold the rectum closed. In some people the muscle is too tight or the muscle was damaged or weakened in childbirth or from other causes. We've developed the program with a device company and we are studying a possible drug therapy in comparison to the device. This is all part of the Controlling Anal Incontinence by Performing Anal Exercises with Biofeedback or Loperamide

(CAPABLe) trial.
The other promising area is in translational research, which combines what lab scientists and clinical researchers have learned and applies it to patients. Part of this effort is to understand the genetic components and whether there is a future for procedures such as, for example, fecal transplants. We're bringing together basic scientists, clinicians, and laboratory researchers to answer fundamental questions about these conditions in new ways and with new expertise.
What message would you like to give to people about pelvic floor disorders?
I would encourage anyone who thinks they have a problem to talk to their doctor about it. Just ask the question; we're used to it. There isn't anything you shouldn't be able to talk to your doctor about. If your doctor's response is not sufficient, you need to talk to another doctor, or look for somebody who specializes in pelvic floor disorders. The main thing is to ask. Once you start asking, you'll get the information.
All three of these disorders keep people stuck in the house because they're afraid to go out. The last thing we want is for people to stay home because of these disorders. These things can be treated, so asking is the first step. We encourage doctors to routinely ask patients if they have these conditions. Hopefully, that will open the door to those who need information.
We also know there are conditions that affect the occurrence of pelvic floor disorders, including obesity, diabetes, and heart disease. And so one prescription is the one that is so universal and that we hear so often: Eat right and exercise.
More Information
NICHD-supported Research:
Infographics:
A–Z Topics:
Previous Features on PFDs:
Meet Our Researchers: Matthew Barber, M.D., M.H.S., and Susan Meikle, M.D., M.S.P.H.: Finding Better Treatments for PFDs
Originally Posted: May 21, 2015
---
Whitehead, W.E., Borrud, L., Goode, P.S., Meikle, S., Mueller, E.R., Tuteja, A., Weidner, A., Weinstein, M., Ye, W., for the Pelvic Floor Disorders Network (2009). Fecal incontinence in US adults: epidemiology and risk factors. Gastroenterology, 137(2), 512–7. PMID: 19410574
---