April 2012 Lecture Features Traumatic Brain Injury (TBI) Expert Dr. Richard M. Greenwald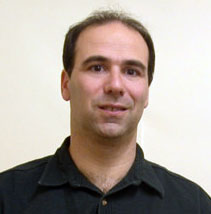 On April 17, 2012, the NICHD Director's Lecture Series will feature Richard M. Greenwald, Ph.D., and his lecture about Biomechanical Basis of Concussion: Monitoring Head Impact in Sports. Dr. Greenwald, a biomedical engineer, is the founder and president of Simbex, LLC, and serves as an adjunct associate professor at the Thayer School of Engineering at Dartmouth College. In addition, Dr. Greenwald is a research affiliate in the department of aeronautics and astronautics at the Massachusetts Institute of Technology.
Dr. Greenwald and his colleagues at Simbex received funding from the NICHD's National Center for Medical Rehabilitation Research to develop and study the Head Impact Telemetry (HIT) System, which enables widespread data collection on head impact exposures for research on concussion-related injury. This research is already helping to improve our understanding of TBI and concussion—specifically from sports-related injuries—allowing the development of new approaches for prevention, diagnosis, and treatment.
The lecture will include a discussion of the following topics:
Methods to evaluate clinically relevant measures for the diagnosis of TBI and concussion
Research to quantify the frequency, magnitude, and direction of head impacts experienced by athletes
Approaches to increase public awareness of concussion and minimize head impact incidents
Specifics of the event are as follows:
What: NICHD Director's Lecture Series Biomechanical Basis of Concussion: Monitoring Head Impact in Sports
When: April 17, 2012, 1:00–2:00 p.m.
Where: Lipsett Auditorium, Clinical Center (Building 10), NIH Main Campus, Bethesda, Maryland
Contact: Lynne Haverkos, Child Development and Behavior Branch, Center for Research for Mothers and Children, NICHD, at haverkol@mail.nih.gov or 301-435-6881
Following the lecture, there will be a reception held in the atrium outside Lipsett Auditorium.
NICHD Director Alan E. Guttmacher, M.D., initiated the NICHD Director's Lecture Series in 2011 as a way to showcase current research advances within the Institute's mission and research portfolio. The Series is open to the public, and registration is not required. Non-NIH employees should visit http://www.nih.gov/about/visitor/index.htm for details about getting to the NIH campus and security procedures. Please note that this event will not be recorded, so it will not be videocast or in the videocast archives.
Individuals with disabilities who need sign language interpreters and/or reasonable accommodations to participate should contact Vernon Cardwell (cardwellv@od.nih.gov or 301-594-1968). Please make your requests at least 5 days in advance of the event.
For more information, select one of the links below:
Last Updated: April 2, 2012
Originally posted: April 3, 2012