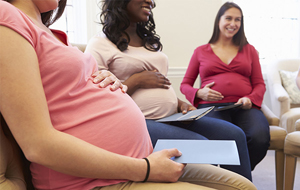 Promoting healthy pregnancies is a cornerstone of NICHD'S mission. Here we highlight some of the latest research findings and information related to pregnancy.
The January issue of NIH News in Health includes Pregnancy and Beyond: Make Healthy Choices for Yourself and Your Baby, which features:
Dr. Uma Reddy, a maternal-fetal medicine specialist in NICHD's Pregnancy and Perinatology Branch, discussing healthy weight gain during pregnancy
Dr. Triesta Fowler, leader of the NICHD's National Child and Maternal Health Education Program, describing the Moms' Mental Health Matters initiative to raise awareness about depression and anxiety during pregnancy and after the baby is born
In addition, NICHD scientists and grantees have published research findings related to pregnancy, reproductive health, and child development. These include:
For additional information, visit the Pregnancy A to Z Topic.
Originally Posted: February 28, 2017