NICHD reminds parents and caregivers that calcium is essential for healthy teeth and gums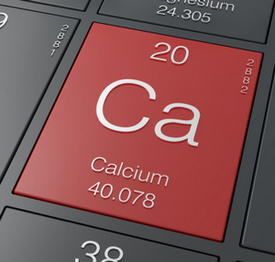 Brushing and flossing and getting regular dental care are important ways for children to keep their teeth and gums healthy for a lifetime. But teeth also need a strong nutritional foundation—especially lots of calcium—to stay healthy for a lifetime. Calcium is also critical for healthy bones, including the jawbone and the other bones of the mouth.
Children and especially teens need calcium to help their bodies, bones, and teeth grow and get strong.
A person's body has a "bank" where it saves all the calcium it will have to use throughout life. Calcium goes into the bank easily between birth and about age 17, but then it gets harder for the body to add more. Around age 30, the bank closes. Children and teens need to get lots of calcium while it's still easy to add to the bank to ensure they have enough calcium to keep their teeth and bones healthy and strong for a lifetime.
Tweens and teens need 1,300 mg of calcium every day. According to the National Health and Nutrition Examination Survey, only about 1 in 10 girls and about 1 in 4 boys ages 9 to 13 get the recommended amount of calcium in their diets each day. As they get older, their bodies won't have the calcium needed to keep teeth and bones strong.
Children and teens can get most of their daily calcium from drinking 3 cups of low-fat or fat-free milk (900 mg of calcium) and eating additional servings of calcium-rich foods, such as dark-green leafy vegetables and calcium-fortified tofu.
Some people can't or choose not to drink milk, but they still need calcium. Luckily, there a lots of calcium-rich and calcium-fortified foods that can add to the calcium bank. Visit http://www.nichd.nih.gov/milk/prob/Pages/calcium_sources.aspx for a list of good dietary sources of calcium.
The NICHD partnered with the National Institute of Dental and Craniofacial Research (NIDCR) to create the Milk Matters with Buddy Brush Coloring Book to teach children the ages of 4 and 8 about the importance of brushing and flossing, calcium, and regular dental care for health teeth and gums. The coloring book is also available in Spanish: Salud con leche! y el Amiguito Cepillito.
So as parents teach their kids about the importance of brushing and flossing and getting regular dental care, the NICHD reminds them that calcium is also an important piece of the puzzle for building healthy teeth and strong bones that will last a lifetime.
For more information about children's dental health, select one of the following links:
NICHD Resources

Milk Matters: This NICHD campaign aims to educate parents, caregivers, teachers, and health care providers about the importance of getting enough calcium during childhood and adolescence to ensure a lifetime of health teeth and bones. Check out these publications:

For Strong Bones… For Lifelong Health… Milk Matters!
Salud! con leche...Para huesos fuertes...Para toda su vida
Milk Matters with Buddy Brush Coloring Book
Salud con leche! y el Amiguito Cepillito

National Library of Medicine Medline Plus: Child Dental Health
Originally Posted: February 22, 2013