NICHD scientists find higher levels of certain inflammation marker at birth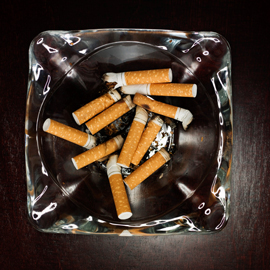 Infants whose mothers smoked cigarettes throughout pregnancy had higher levels of an immune system protein called interleukin-8 (IL-8) at birth, according to a study led by researchers at the Eunice Kennedy Shriver National Institute of Child Health and Human Development (NICHD), part of the National Institutes of Health. IL-8 is a protein that is known to promote inflammation. Levels of IL-8 tend to be elevated during infections and certain health conditions, including lung disease. The study appears in the December 23, 2016, issue of Nicotine and Tobacco Research.
Background
Smoking during pregnancy is linked to pregnancy complications, including miscarriage, premature birth, birth defects, and problems with the placenta, which brings nutrients and oxygen to the fetus. Cigarette smoke during pregnancy is a risk factor for sudden infant death syndrome—the sudden, unexplained death of a baby younger than 1 year of age. Children born to mothers who smoked during pregnancy also are at risk for long-term health problems, such as childhood cancers and lung disorders. About 8.4 percent of women in the United States report smoking at some point during pregnancy, according to the Centers for Disease Control and Prevention.
Changes in the immune system are linked to smoking-related conditions such as asthma. However, it's not clear how smoking during pregnancy could affect a baby's immune system. To investigate, NICHD researchers reviewed information from the Upstate KIDS Study, which originally evaluated the effects of parents' infertility treatments on their children's development. The study has data that researchers can use to answer other important questions.
Results
Researchers led by Edwina Yeung, Ph.D., evaluated information from 2,903 mothers who consented to the additional analysis of their child's residual dried blood sample, which had been collected for newborn screening tests 2 to 3 days after birth. About 12 percent of the women had smoked during pregnancy, and some quit smoking during their first trimester. However, 43 percent of the smokers continued to smoke throughout pregnancy.
The study team measured various indicators of immune system functioning in the newborn blood samples. The researchers compared the levels of these immune substances among children grouped by their mother's smoking status: non-smoker, stopped within the first trimester, stopped after the first trimester, or smoked throughout pregnancy. The team also evaluated children exposed to secondhand smoke. Overall, samples from nearly 3,500 children were analyzed.
The researchers statistically accounted for a number of factors that could influence their findings, such as the mother's age, race, pre-pregnancy body mass index, education level, marital status, and alcohol use, to help ensure that the findings were associated with smoking and not other issues. They found that infants whose mothers had smoked for their entire pregnancy had elevated levels of IL-8, which normally increases during infections, adverse pregnancy outcomes, and lung disorders.
"Our findings suggest that IL-8 is higher at birth after exposure to maternal smoking," said Dr. Yeung. "Inflammation may be elevated in newborns with poor lung function, so our study supports the idea that prenatal smoke exposure could have long-term consequences by changing immune function."
Significance
The study is among the largest to show that smoking throughout pregnancy leads to changes in an infant's immune system, even at birth. Future studies, which the researchers are planning, will need to determine if a newborn's levels of IL-8 can predict future smoking-related health conditions like asthma. Such a marker would enable health care providers to identify children at risk for these conditions, allowing for early monitoring, possible prevention, and early treatment.
Reference
Chahal N, McLain AC, Ghassabian A, Michels KA, Bell EM, Lawrence DA, Yeung EH. Maternal smoking and newborn cytokine and immunoglobulin levels. Nicotine and Tobacco Research DOI: 10.1093/ntr/ntw324 (2016).