NIH-funded study suggests only 23 percent of kids with record of high blood pressure receive diagnosis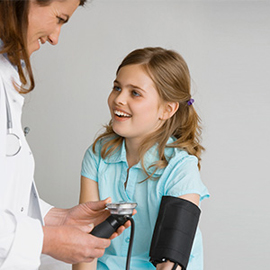 Hypertension and prehypertension may be undiagnosed and untreated among U.S. children and youth, despite repeated high blood pressure readings in doctor's offices, according to an analysis of nearly 400,000 medical records.
Of the roughly 12,000 children found to have high blood pressure readings after 3 or more office visits, only about 23 percent received a diagnosis.  Of those who were diagnosed, only about 6 percent received medication for the condition.
The study, published in Pediatrics, was conducted by David C. Kaelber, M.D., Ph.D., of Case Western Reserve University in Cleveland and colleagues. The study was funded by the NIH's Eunice Kennedy Shriver National Institute of Child Health and Human Development and the Health Resources and Services Administration.
Background
Blood pressure is the force of blood pushing against the walls of the arteries as the heart pumps blood.  High blood pressure, or hypertension, occurs when this force becomes too great or if the resistance in the arteries is too high.  If it is not controlled, high blood pressure can lead to complications such as kidney failure, vision loss and blindness, heart attack, and stroke.  Prehypertension—higher than normal, but not yet considered too high—can progress to high blood pressure over time and should be controlled with lifestyle changes such as eating a healthy diet, weight loss, and reducing sodium intake. The study authors noted that an estimated 2 to 5 percent of children have hypertension.  If untreated, high blood pressure in children can lead to adult hypertension and early signs of heart and blood vessel disease.
Results
Researchers reviewed the health records of 1.2 million U.S. children ages 3 to 18 from 1999 to 2014.  The children were patients in the196 pediatric primary care sites in 27 states that make up the Comparative Effectiveness Research Through Collaborative Electronic Reporting Consortium.  From this group, the researchers identified nearly 400,000 patients who had their blood pressure taken 3 or more times over an average of 62 months.

Of the 12,138 children with 3 readings indicating hypertension, less than 3,000 received a diagnosis. Among those who had been diagnosed, 158 (5.6 percent) were treated with medication within a year of diagnosis. Among the 38,874 children with prehypertension, 3,990 (10.3 percent) received a diagnosis. 
Significance
The findings suggest that many pediatric practices do not follow established guidelines for treating children with hypertension if the condition does not improve within 3 to 6 months. The researchers noted that diagnosing hypertension in children is difficult because the criteria for diagnosing the condition vary according to a child's sex, height, and age. 
Next Steps
The study authors suggested that pediatricians familiarize themselves with the guidelines for diagnosing and treating hypertension in children.
Reference
Kaelber, D.C., et al. Diagnosis and Medication Treatment of Pediatric Hypertension

: A Retrospective Cohort Study Pediatrics 38(6) 2016. DOI: 10.1542/peds.2016-2195