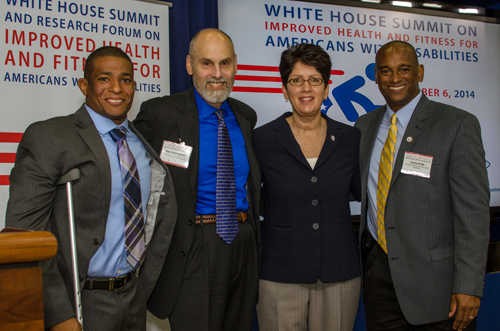 More than 50 million Americans, about 1 in 5 people, are living with a disability. People with disabilities tend to be less physically active than people without disabilities and have higher rates of corresponding health problems such as obesity, heart disease, hypertension and stroke.
To promote improved health and fitness for people with disabilities, NICHD and the President's Council on Fitness, Sports & Nutrition (PCSFN) recently co-sponsored a White House summit and research forum on the impact of exercise and healthy diets on children and adults with disabilities.
"Physical activity and good nutrition are important for all people to lead healthy lives," said Dr. Ralph Nitkin, acting director of NICHD's National Center for Medical Rehabilitation Research. "For individuals with disabilities, physical activity and nutrition are of special significance, as obesity or a general lack of physical fitness may have a more immediate impact on their physical function and participation.
"By focusing on their specific physiological, psychosocial and nutritional needs—and with the help of their families," he continued, "we have a unique opportunity to support people with disabilities, reduce secondary complications and improve overall health."
The first day of the event featured personal reflections from people with disabilities about the importance of physical activity in their lives. Educators and community leaders also spoke about their experience implementing model programs such as "I Can Do It, You Can Do It!" This 8-week mentoring program, created by Dr. Margaret Giannini, a past director of HHS's Office on Disability, helps individuals with disabilities make healthy choices about nutrition and physical activity.
The research forum on the second day included discussions led by NIH scientists, grantees and federal colleagues about a variety of related topics, from movement challenges and special nutritional needs to motivational techniques and outcome measurement.
###
About the Eunice Kennedy Shriver National Institute of Child Health and Human Development (NICHD): The NICHD sponsors research on development, before and after birth; maternal, child, and family health; reproductive biology and population issues; and medical rehabilitation. For more information, visit the Institute's website at http://www.nichd.nih.gov/.